Aldiko Sync For Android Uses Dropbox To Sync Aldiko eBooks Across Devices
Aldiko Book Reader – a free eBook reader for Android – is already quite popular among users due to its simplicity and multi-format eBook reading capabilities. If you, like XDA-Developers member GameGod72, are a fan of the app, then the developer's debut venture Aldiko Sync might have something very special in store for you. Designed for Aldiko Book Reader (v2.0.2),  Aldiko Sync is an Android app that syncs all your eBooks (with their last state preserved) from Aldiko to your Dropbox account so that you can easily continue reading the same books across multiple devices – a concept based very much on the renowned 'Whispersync' feature of Amazon Kindle.
Before proceeding any further with Aldiko Sync, you should know that the app works only with rooted Android devices. If you wish to gain root access on your Android, then do check out our detailed guide on how to root Android phone. Another thing, you must have Aldiko Book Reader (v2.0.2) installed on your device in order to sync its content via Aldiko Sync.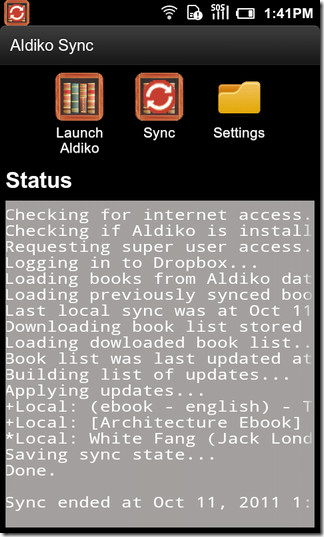 If you have both aforementioned prerequisites in place, then all you need to do is install Aldiko Sync on your device, launch the app, tap the Sync button, provide your Dropbox credentials (only once) to have all your Aldiko data synced to your Dropbox account.
Upon each sync instance, the app loads books from Aldiko's database along with previously synced ones and the list of various books stored in your Dropbox account. In addition, it also displays the time you last synced your books via Aldiko Sync.
The Launch Aldiko button on the homescreen of the app enables users to jump directly into Aldiko Reader and start reading their synced eBooks from exactly where they last left off. The Settings button can be tapped to specify the eBooks Folder on your Dropbox storage where you want Aldiko Sync to save all content. Tapping the Clear Token option clears/resets Alkido credentials on your Dropbox account. The Use TrashCan option under the Sync Settings menu on the same screen can be enabled to store all the deleted eBooks in a TrashCan/eBooks folder on Dropbox. Storing deleted books on a separate folder lets you easily retrieve them anytime upon requirement.
Also on this screen, you have the option to Upgrade to the Pro version of Aldiko Sync. Upgrading to the full version lets you avail several other handy features; the most important of them all being the auto-sync feature that saves you from the hassle of syncing content manually on a regular basis.
To confirm that the app really works, we tested its syncing mechanism across HTC Desire HD and Samsung Galaxy S (both running MIUI) and the app worked exactly as it should.
Aldiko Sync is free in the Android Market and works with Android OS 2.2 or higher. Market links to Aldiko Sync (free version) and Aldiko Sync Pro Unlocker (paid version) are provided below along with their respective QR codes. You will, of course, need to have Aldiko Book Reader installed on your device to make use of either.
Update: The app now works with both rooted as well as non-rooted devices. Support for Android OS 2.1 has also been added.
Download Aldiko Sync for Android (Free)
Download Aldiko Sync Unlocker Pro for Android (Paid)
Download Aldiko Book Reader for Android