Customize Context Menu Of Files, Folders, Drives & Desktop In Windows
Ultimate Windows Context Menu Customizer is a portable application to add customized options to Windows shell right-click context menu. The utility allows adding context menu options from a list of pre-defined items and inserting your own custom shortcut in Windows right-click context menu. It lets you add shortcuts for Applications, Folders, Files, URL's and choose which browser to use to open a particular website. Using this tool, you can add shortcuts to context menus of files, folders and drives instead of just the desktop context menu.
The interface is neatly divided into 4 panes. On the left side, you have Context Menu Location, Context Menu Items pane and Add/Edit Item. Whereas the right side contains the pre-defined list of context-menu Items, such as, Registry Editor, PowerShell ISE, Remote Desktop, Magnifier, Gadgets, Calculator, etc.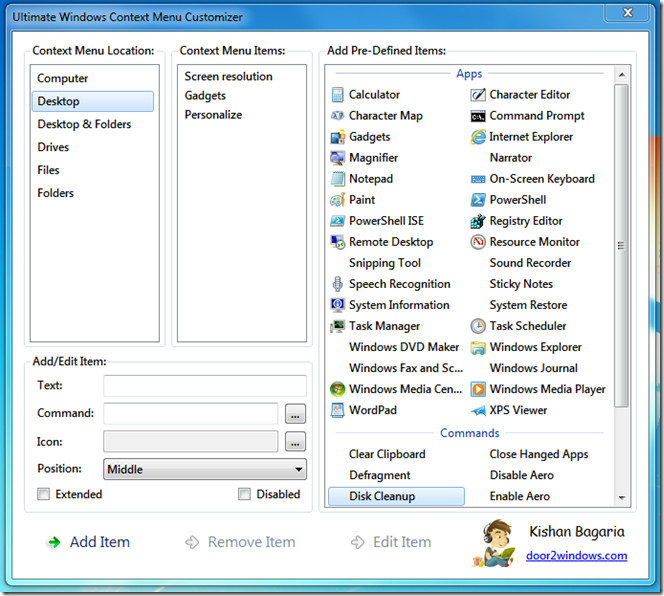 To add a Pre-defined Item, just select it from the list given in the right pane and click Add Item. The application gives you the liberty of choosing the location of context menu item that you want. If you require an option to appear only when you right-click on your desktop, select Desktop under Context Menu Location pane before clicking Add Item. For example, if you want to add Notepad to Desktop context menu, select Notepad from the list, choose Desktop from Context Menu Location and click Add Item.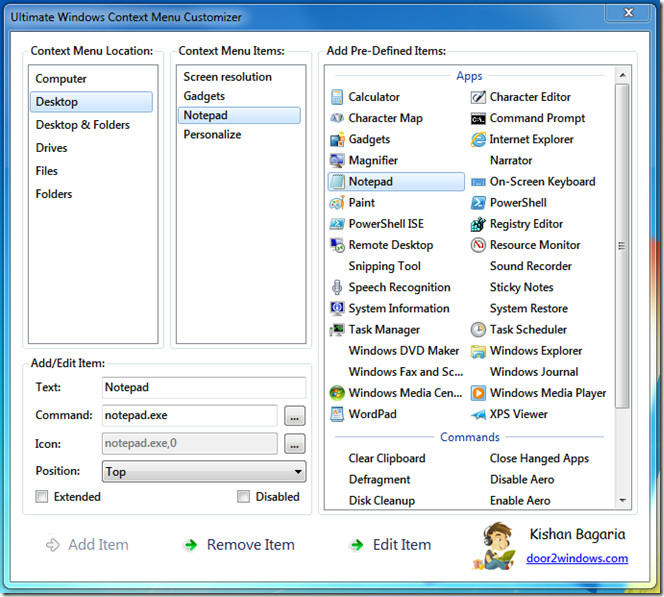 You can also change the Position of the shortcut in the context menu after adding it. By default, it adds custom option under Refresh.
You can add shortcuts to context menu in same way. First choose location from Context Menu Location, enter the name of your shortcut and then choose the source path. If you want to add file or  folder shortcut, enter explorer <space> file/folder path. For adding website, enter the browser name (write chrome for Google Chrome, firefox for Mozilla Firefox and iexplorer for Internet explorer) followed by URL of the website. For example firefox www.addictivetips.com. Once done, select the desired position and click Add Item.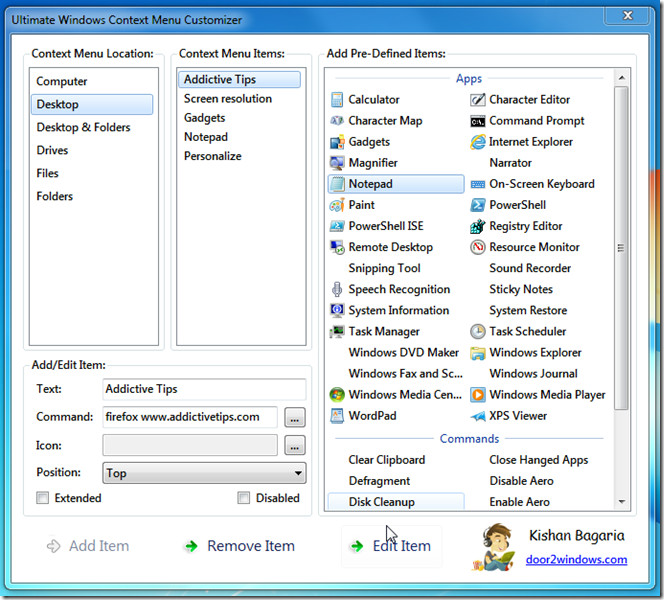 Ultimate Windows Context Menu Customizer also lets you add shortcuts to extended context menu, which is accessible via shift + right-click; just enable Extended option present in left-bottom corner and then follow the process of adding shortcut to context menu.
All in all, it proves to be a handy application which performs almost the same functions as previously reviewed Context Menu Editor. The difference is that Ultimate Windows Context Menu Customizer can add shortcuts to different context menu locations and also set the position of the shortcut while Context Menu Editor only allows changing the items of your Desktop Context Menu. It works on Windows XP, Windows Vista and Windows 7.
Download Ultimate Windows Context Menu Customizer