Alt Drawer – A Customizable App Drawer Replacement For Android
We all are quite familiar with the fact that of all the mobile platforms, it is Android that offers the greatest degree of customization. One thing, however, that few of you may know is that there are numerous apps out there that let you alter and personalize each individual facet of your device's layout. Be it the lock screen or just the app drawer, Android users can control them all with ease.  Alt Drawer is a launcher-independent app drawer for Android users who prefer customization of their phones at a moderate level rather than replacing the entire native launcher with home screen replacement apps the likes of LauncherPro, ADW Launcher and GO Launcher EX. Alt Drawer is subtle, its simple and provides the most basic app drawer options to users so that they may manage and view their apps in a better and  simpler way.
Alt Drawer is simple to install and has a very user-friendly interface. The drawer works smoothly in portrait as well as in the landscape mode. With Alt Drawer, you can view your app drawer in both list and grid format. This feature, in fact, almost every feature that Alt Drawer sports can be found in the app drawers of popular launchers. However, this app drawer replacement is not meant to replace those apps, but simply to provide you with an alternate app drawer without replacing the entire launcher.
Alt Drawer is easily customizable and brings some of the most frequently used options of your Android device on a single unified platform such as viewing the details about a particular app, uninstalling an application from the phone and hiding an app from the drawer menu. This aspect of Alt Drawer has a definite edge over the usual Android menu that has rather limited options such as launching an app and creating its home screen shortcut but nothing much noteworthy thereafter.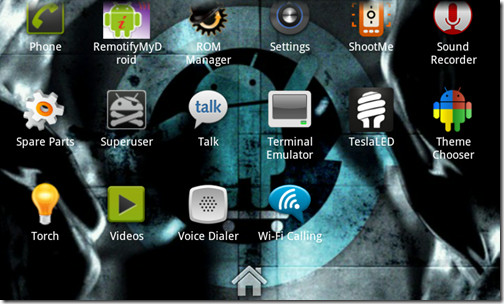 The background for the drawer can be selected from a predefined solid color, image or a preferred wallpaper. Similarly, the icon size, font size and font colors can also be adjusted. When in full screen mode, the status bar can be hidden to have the drawer occupy the whole screen. The solitary home button sitting at bottom of the screen helps easy switching between the drawer and the home screen of your Android phone. Alt Drawer is still in its beta phase and the future version promises to bring many more useful features for the users.
You may head over to the app's XDA-Developers forum thread to download its APK.