APK Batch Installer: Backup/ Restore Multiple Android Apps To/ From PC
Looking for a simple solution to backup & restore Android apps to & from your PC? Look no further, because XDA member hamsteyr, has introduced APK Batch Installer Tool, a Windows-based application that makes backing up and restoring third-party Android apps a breeze. Just as its name suggests, APK Batch Installer lets you create backup of all your Android apps in the form of individual APK files. In addition, it has the capacity to restore APKs of your favorite/required Android apps from computer in batch. No need to resort to any complex ways that only allow you to restore required apps just one-by-one. Instead, with APK Bath Installer, all you need to do is connect your Android device to the computer via USB cable, and backup/restore apps without any hassle whatsoever. Using this tool, you can pull APKs of all the required apps from various devices, and then batch install all of them to your Android in one go. Please note that APK Batch Install only pulls the APKs of the required apps, and not their customized settings (cached content). This means that upon restore, you only get back an installed and readily available app that needs to be reconfigured/set up right from the scratch.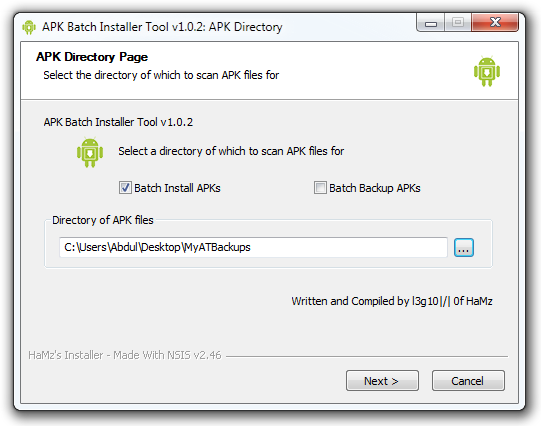 Backup/restore solutions are aplenty for Android, but most of them support restoring apps just one at a time. No doubt, Titanium Backup, Root Uninstaller, Android Commander, and several other tools are quite commendable with the amount of features that they offer, however, the backup/restore mechanism supported by APK Batch Install is unarguably one of the simplest that you can find.
From the link provided below, download and install the application to your computer. Please note that you must have your device's USB drivers installed on the computer in order to make the application recognize your device. The application interface comprises just a couple of options key options: Batch Install APKs and Batch Backup APKs.
Provided your device is connected to the computer via micro USB cable, with USB Debugging Mode enabled on it, all you need to do is select the Batch Backup APKs option, select the destination/target directory on your computer where you wish to store all the extracted APKs of your device, and click Next.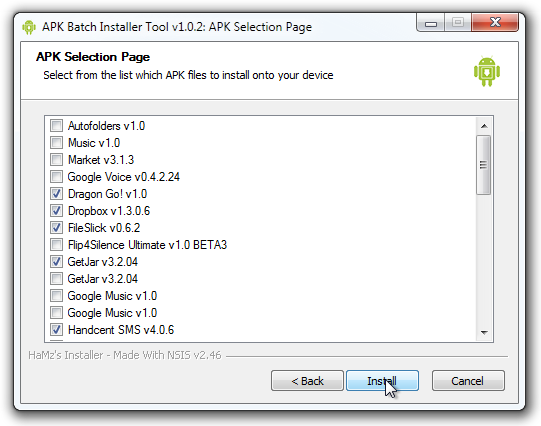 Now to the restoration/installation bit. With all aforementioned prerequisites in place, select the Batch Install APKs option, choose the source directory on your computer that contains all the required APKS, and click Next. From the menu that appears next, select all the apps that you wish to install directly to your Android device, and hit Next. That's it!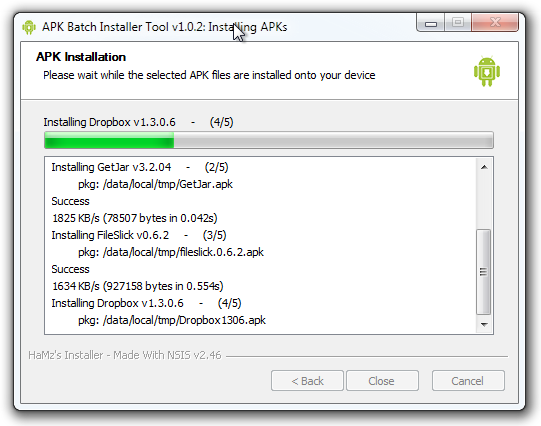 APK Batch Installer has been successfully tested on Windows 7 (64-bit edition) with a couple of HTC and Samsung devices running various types of of custom ROMs.