AppExtarctor Restores Individual Apps & SMS/MMS From ROM Manager Backups
One reason for Android gathering such a huge fan base is perhaps the easy and comprehensive backup/restore functionality it offers. There is a wide range of apps available in Android Market that let you backup and restore your apps without any issues. Although Titanium Backup is the must go-for Android backup and batch-restore application, some users like ROM Manager to backup and restore their complete system/ROM. It's no hidden fact that users who fancy rooting and modding their devices, tend to try various ROMs and kernels, and very frequently. Most of theses ROMs come with a pre-requisite to completely wipe and reset system and user data. ROM Manager, created to help ROM flashers and downloaders, provides a facility to backup your current ROM along with all user data via ClockworkMod Recovery. This backup is made in the form of a zip file and can be reinstalled via recovery whenever need arises, but it will restore everything! So how do you get back individual items like messages, MMS etc? Hit the jump to find out.
AppExtractor is a new Android app that allows the users to extract and reinstall individual apps from ROM Manager's system backup. Normally, backups made through ROM manager come in form of a flashable zip file that basically has to be flashed/installed as a ROM. There is no option to get individual apps out of this backup, or restore only selective data. AppExtractor allows you to pick and choose the apps and data you want to be restored on your device from these ZIP files.
The functionality that this app offers is pretty appealing for all those who have been looking to get their SMS, MMS, data and individual applications restored in original state from flashable backups. We decided to take this app for a spin in our Addictive Labs. Our test device was a Google Nexus S running CyanogenMod 7.1 Android 2.3 Gingerbread custom ROM. As expected, the installation process went without hitches, and after we launched the app, it was surprising to see a neat and non-cluttered layout. As you will be using this app to tinker with flashable zip backups, it is necessary to have root and SU permissions. Apart from this, you will also need to have a ROM Manager backup of your current/previous ROM present on your device's SD Card.
The app offers options like Restore Apps/Data, Restore SMS/MMS, along with Fix Permissions add-on. However, while trying this app on our Google Nexus S, we followed Restore Apps/Data -> AT Test Backup -> User Apps and nothing happened after the app finished scanning the zip image file. According to the app developer and screenshots provided at the app's official Market page, we were supposed to be looking at a screen that displayed all restorable apps. The same happened when trying other options.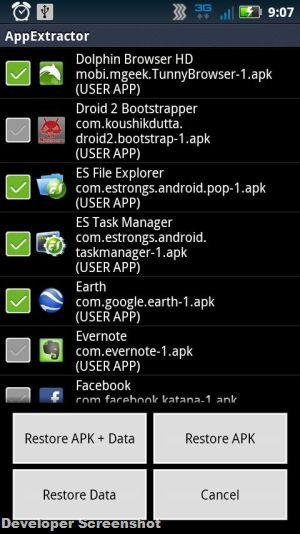 Apparently the "Free" version of this app only lets you restore SMS/MMS, and that's probably why we got nothing when trying to restore user or system apps. We tested the Restore SMS/MMS option and it did restore text messages and MMS as promised.
AppExtractor app came as a bit of disappointment as we believed that it was completely free, considering that the "paid restoration of apps" part wasn't discussed in XDA original thread. For more information and discussion regarding this app, please head to the official XDA thread here.