MDF to ISO Lets You Convert Files From MDF To ISO Format With Ease
MDF (Mirror Disc File) is a disc image format like ISO, Bin, Nrg etc, used by several virtual drive software. It is basically CD/DVD data saved as a disc image, using a disc authoring tool like Alcohol 120%. Disc image files created with such formats can be mounted with applications such as MagicDisc, PowerISO, DeamonTools and the like. MDF file data is stored in two separate files, with the main data being in the .MDF file, while the header and track information is stored in a corresponding .MDS file.
Over a period of time, the ISO format has become more popular than other disc image formats. For this reason, one is likely to find support for ISO images in numerous applications as compared to other similar formats. Moreover, many users have become more acquainted with the ISO format and prefer it over other formats.
MDF to ISO is an easy to use application to convert MDF image files to ISO format. The generated ISO file created by this application is of ISO 9660 quality.
To convert an MDF image to ISO format, select an output directory and click Covert. A progress bar will display the conversion progress. The conversion time is based on the original file size and the capabilities of your computer hardware.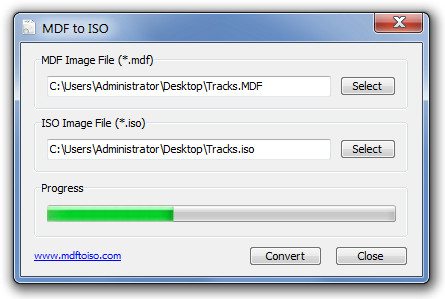 MDF To ISO works on Windows XP, Windows Vista and Windows 7.