Auto-Enable Speakerphone On Incoming And Outgoing Calls [Android]
Do you use an Android phone often while multitasking and don't have your hands free to hold it to your ear and have a conversation every time you get a call, but instead prefer to put it on speakerphone and have the conversation while working? If you have been manually doing it so far, we've got a solution that will eliminate the need to do so, and do it automatically for you! New to the Android Market, Auto Speakerphone for Android is a handy application that, when enabled, automatically turns on the speakerphone in the event of an incoming or outgoing call. To learn more, read on after the jump.
Smartphones are supposed to be 'smart' i.e. they should minimize our interaction with them when it isn't needed and when there is a way to automatically do what we want them to do. This app adds a bit more of 'smart' to our Android devices by smartly enabling speakerphone on each incoming call. What's even better – you also have the option to set the application to disable itself whenever a headphones or a Bluetooth handsfree device is connected. The application is particularly useful for receiving and placing calls while working or, while driving (if it is legal in your part of the world to drive while talking on a phone by holding it), without having to hold your phone to your ear.
The app runs as a background service with a notification icon displayed in the notification bar that, when tapped, displays the app's minimalistic home screen wherefrom users can disable said background service. From the options screen, you can enable or disable the service, as well as its notification icon, and choose whether to automatically disable it or not when a wired headset or a wireless bluetooth handsfree device is connected. You can see in the screenshot below the notification you get as the speakerphone automatically gets enabled upon receiving an incoming call.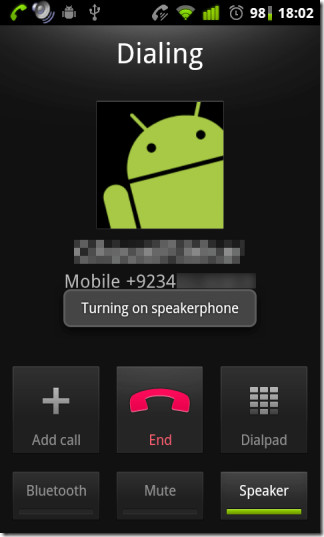 Handy as it is, there scenarios wherein this app would prove useful are limited. Also, the application essentially just saves you a tap. Still, the concept is commendable and can be expanded upon. If the developers were to include the option to enable/disable automatic receiving of incoming calls, it would greatly increase the flexibility of the application.
You can grab Auto Speakerphone from the Android Market for free via the link given below.
What do you think of Auto Speakerphone? Got another smart app of your choice that makes your phone smarter for you? Share it with us and our readers in the comments below.