Bitdefender Safebox Gives Free 2GB Of Cloud Storage To Android Users
Joining the likes of Dropbox, Box, CX and the recently reviewed Zoolz, the renowned computer and internet security solution provider, Bitdefender, has announced a brand new cloud storage service of its own by the name of Safebox that allows computer and Android users to instantly upload data from their devices to cloud. Each registered user gets an initial 2GB of free online storage space that can be extended further to a maximum of 60GB per account should you opt to go for the premium account. Using Safebox, you can create multiple folders on cloud and store your computer and/or Android data, regardless of the size of the files that you wish to upload. To access and manage your personal Safebox cloud content from a computer, all you need to do is log in to my.bitdefender.com using a valid Bitdefender account. On Android, however, said purpose can be easily achieved via the recently launched Bitdefender Safebox mobile client, that allows adding/linking multiple devices to the sync mechanism. Data stored on Safebox from all associated devices gets synced in real-time with the cloud data, and can be shared further with friends with utmost ease. If you wish to avail the service on an iOS-powered device, you might have to wait a bit longer, because the iOS variant of the mobile client is still in the pipeline.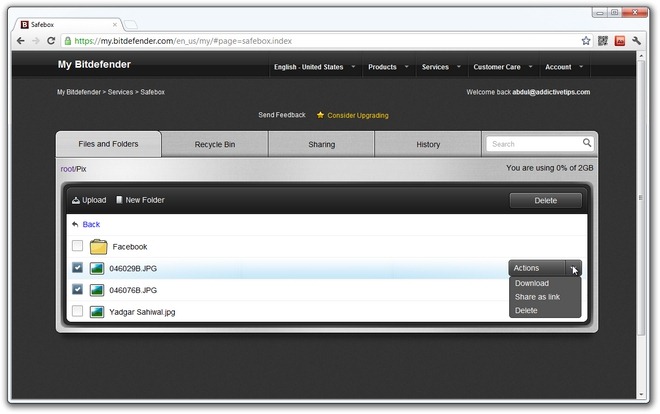 Safebox happens to be the second major release by Bitdefender in the same month. Just a couple of weeks ago, the company announced a very handy system optimization tool for Android by the name of Power Tune-Up, and now they've tried their hand at providing Android users with a safe, reliable and simple online data backup solution in the form of Safebox.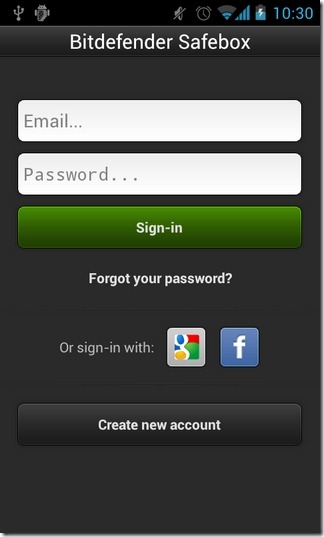 When launched, the app prompts you to log in with your Bitdefender, Google or Facebook account. New users can grab a fresh account for themselves for free from within the app.
Once logged in, you can start exploring your personal Safebox data by folders. To create a New Folder, Upload a file, Search for required files, access the app's Settings, and/or manually Refresh cloud content, tap Menu and select the required option. In addition to availing the in-app upload option, you can also upload any individual file from within your device's gallery or any third-party file explorer. Upload progress can be monitored via status bar notifications. To share an uploaded file with other, just long press on it, and pick the Share option from the context menu.
Head to the app's settings screen (tap Menu > Settings) and you can keep a check on the total cloud space consumed, Set a passcode for the app, and/or unlink a device from the sync mechanism.
There seems to be no support to upload files in batch; neither via the web client nor the Android one. Furthermore, there are other similar services already available that are offering much more online storage space to users to play with. However, given the worldwide acknowledged reputation of the company, the option of linking multiple devices to a single account via Bitdefender Safebox, and the most important of them all, the temptation of availing 'additional' 2GB of free storage space is something that could lure users towards giving the app a good try.
Download Bitdefender Safebox for Android