Bord – Virtual Chalkboard That Records & Plays Back Drawings [Android]
Looking for something in the Android Market for your kid? Here's a worthy pick. Bord – a very interesting chalkboard app that has been around in the iTunes App Store for quite some time is now available for Android phones and tablets. Unlike its (paid) iOS counterpart, Bord is available to Android users absolutely free of cost. Bord turns your device into a virtual chalkboard and comes across as a handy learning tool especially for young children. You can use Bord to teach your kids kindergarten stuff such as letters, numbers, shapes, colors and all without even spoiling hands with chalk dust. However, it's not just the toddlers that can benefit from the scribbling feature of the app; anyone with the fervor to enjoy a few minutes (or even hours) of doodling sessions can draw, and then look back at their efforts by playing back the drawing.
Supported by a vivid chalkboard interface with realistic sponge and chalks, multiple chalkboard themes (green and black), six different colored chalks, ability to save and share your drawings and best of the lot, ability to playback saved/recorded drawings in real-time with different speeds, Bord comes across as an amazing educational tool for your kids. The app launches in landscape orientation so that you (and your kids) can avail ample space for making drawings and scribbles.
Just launch the app, pick a chalk of your favorite color, select chalk thickness and start drawing on the chalkboard. Drag your fingers on the chalkboard to start drawing. What's even more fascinating is that you can make drawings on Bord by dragging multiple fingers at once. Don't worry about making mistakes because the sponge is there to erase your errors. If you wish to erase the board quickly, just give your device a handy little shake and get a neat and clean chalkboard to start all over again.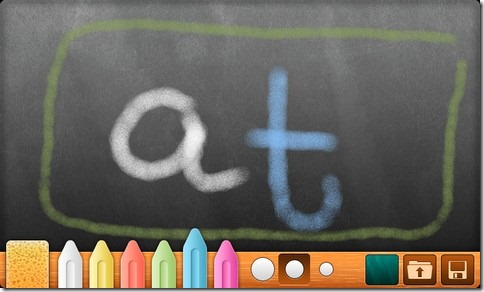 As mentioned earlier, playing your saved drawings in real-time is the most enthralling facet of Bord. Once, your kid is done with a lesson, you can save all the work done in the session and load it anytime you wish. Loaded drawings are played in real-time so that you can check out various attempts of your child. Given it's free, easy to use and a handy tool for young learners, Bord is surely worth a try. Bord for Android can be downloaded from the Android Market via the link provided at the end.