CyanogenMod 7 ROM For Motorola Droid X2 [Download & Install]
The Droid X2 gets CM7! Ok so the world is moving on to bigger things, ICS and ICS based CM9 and CM7 is more of an old news today. The Original Droid however just received a port of CM9 but this port of CM7 to the Droid X2 is actually huge, as it has now opened up the possibilities of further AOSP ports and ROM development for the device where ICS based ROMs are now very much a possibility. This CM7 ROM is based on Android 2.3.7 Gingerbread and is the Droid's first taste of a completely Blur free ROM. Credit to dragonkillerz for bringing this out to the public and giving hope to the Droid X2 owners.
All that said, there seem to be a few issues you may encounter when running this ROM. Here are some of the known issues according to the developer: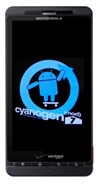 SuperUser has an issue if it's updated in the market from 3.0.4 to 3.0.7. It won't download the new version of the su binary, however, you can update the su binary in 3.0.4.
Due to the battery daemons changing, you may get a ? in the battery icon. Just reboot again and it should go back to normal.
Reboot Recovery,  Reboot Bootloader,  HDMI (Won't be fixed) FM Radio are all disabled.
Images below, courtesy of the developer.
Requirements:
Instructions:
To begin, download the ROM from the link above and copy it to the root of your SD card.
Boot into recovery using the Bootstrap app and Clear Data/Factory Reset.
Now Clear Cache.
Navigate to Install .zip from SD > Choose SD card and select the ROM copied to the SD card.
Do the same for Google Apps. (Step 4, only choosing the Gapps packege this time.)
Once the ROM installation is complete, reboot your device.
Install the patched Motorola Droid X2 Bootstrap Recovery.
Go into the Superuser app and update the su binary.
Go into the Android Market and update the apps on the phone.
Even though ROM Manager is included, do not use it. It does not work well with the X2 right now. For updates and queries, head over to the forum thread at XDA-Developers.