How To Get Absinthe Untethered Jailbreak On iPhone 4S & iPad 2
The wait is finally over, as the jailbreak "Dream Team" has revealed their Absinthe untethered jailbreak for iPhone 4S and iPad 2, Apple's yet-to-get-a-jailbreak A5 devices. The package has been released, as of now, for Mac OS X only, with a Windows release to follow suit shortly. Chronic Dev Team has released the Absinthe jailbreak tool. Other tools may follow in the hours to come. For now, read past the jump for out step by step guide on achieving an untethered jailbreak for iOS 5.0 or 5.0.1 on your iPhone 4S and iPad 2.
Edit: Absinthe for Windows and Linux is now available. Download link and updated instructions after the break.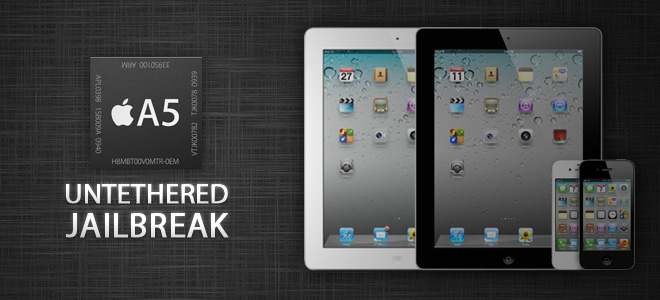 Disclaimer: Please follow this guide at your own risk. AddictiveTips will not be liable if your device gets damaged or bricked during the process.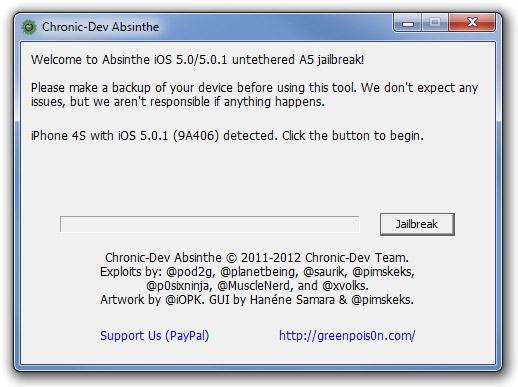 Head over to www.greenpois0n.com and download the Absinthe package for Mac | for Windows | for Linux.
Extract the downloaded package, and run Absinthe.
Connect your iPhone 4S or iPad 2 via USB cable.
Once Absinthe detects your device, hit "Jailbreak" to begin the process.
The tool will take quite a while on start, after which your iPhone 4S or iPad 2 will look like it's restoring from a backup. The process can take quite a while, so remain patient.
Once Absinthe has completed its processing, come back to your device. You'll notice an Absinthe icon on Springboard. Simply tap it.
The greenpois0n website will load, after which your device will reboot.
As soon as your iPhone 4S or iPad 2 is back on, you'll notice that the Absinthe icon has been replaced with Cydia!
That's it folks – you now hold a jailbroken iPhone 4S or iPad 2, untethered and restriction free!
It may be noted that Absinthe is probably the first jailbreak of its kind, combining a mix of what we call userland and traditional jailbreak, and probably the easiest jailbreak method to date after @c0mex's JailbreakMe for iPad 2, before he decided to sign on with Apple itself. Not to say that redsn0w or other popular jailbreak tools are difficult to use, but Absinthe brings a class of jailbreak that, literally, your grandmother can perform, too!
Did the process go right for you? Drop a comment below to let us know.
Update: If, upon launching Absinthe web clip on your device, you get an error saying "error establishing a database connection", head on to Settings on your iPhone 4S or iPad 2, go to Network > VPN and turn it on. Your device should give an error, reboot, and Absinthe should work fine after that.