Audiobook Cutter Free Edition Provides Arbitrary Splitting Of Mp3 Files
When compiling MP3 audiobooks and podcast files into smaller segments, one requires separating them. This can normally be done either by re-encoding the files, or by using complex audio editing applications. Alternatively, one can use an audio file splitter to simplify this task. Audiobook Cutter Free Edition is an audio file splitter to chop down large MP3 audiobook files into smaller segments, without having to edit or re-encode them. The aim of this application is to split MP3 files for easily creating audiobooks that are more manageable, and divided in appropriate segments. For example, you can use this application to manage your long audiobook recordings that can be cut with just a click.
To begin with, just selected the necessary audio files, define a time frame for chopping them by using the top slider, and click the Split Audiobook button.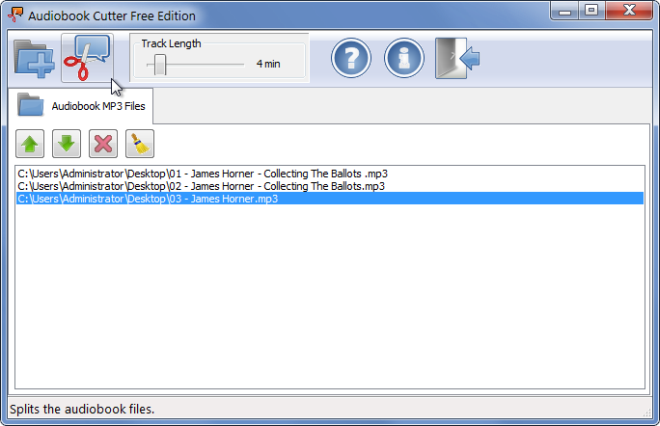 This will split the selected audio file(s) according to your defined time frame. You can add a number of files to queue for batch conversion according to a specific time frame, e.g., 2 minutes.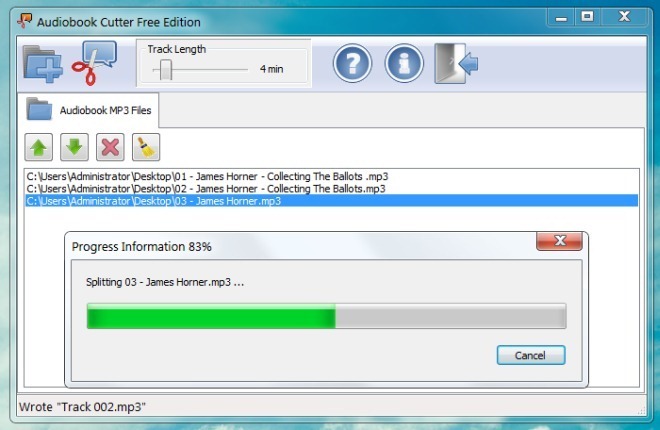 It must be noted that Audiobook Cutter has both a paid and free edition (as suggested by its name). The free edition is limited to arbitrary Mp3 file chopping, whereas the paid version provides additional features, like detection of silent sections in audio files, ID3 tags and playlist creation, multiple file splitting options and silence insertion. Furthermore, all future version updates for paid customers are absolutely free. In other words, once you buy this application, you will not have to buy any updated versions, as future updates can be done without any extra charge. Audiobook Cutter Free Edition works on Windows XP, Windows Vista and Windows 7.
Download Audiobook Cutter Free Edition