Cool Converter: A Holo-Themed Advanced Unit Converter For Android
There is no shortage of quality unit converters for Android in the Google Play Store, but if you are looking for an alternative that provides plenty of advanced conversion options, take a look at Cool Converter. Sporting a UI that borrows its elements from the Android Ice Cream Sandwich's Holo Theme, Cool Converter offers you dozens of daily-use basic, as well as extended, conversion options. The app's conversion support goes beyond the routine physical units (time, length, temperature, area et al), and lets you perform necessary calculations on various scientific and computing units, including bits & bytes, numeral systems, force, torque, pressure, energy, electric current, magnetic field strength, power and metric prefixes etc. That's not all; the app also lists values of all the useful universal scientific constants that you might be required to use in, perhaps, your homework.
Cool Converter has been optimized to work equally effectively on all sort of smartphone and tablet screens. On a tablet, it presents you with a dual-pane interface, where the left one lists all the supported units, while the right pane displays all the underlying values, along with their respective scientific notations.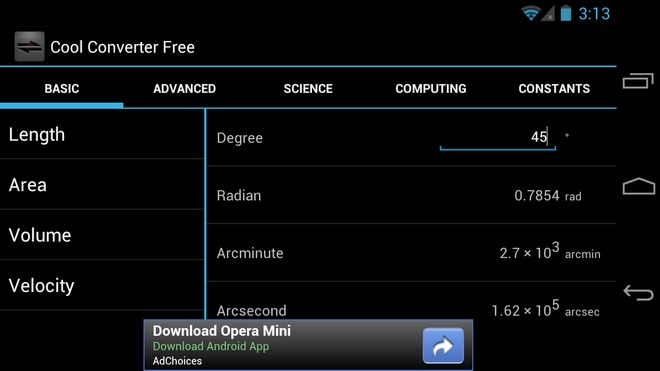 All you need to do is select the required unit that you wish to work on. For this, tap the Basic, Advanced, Science or Computing tabs at the top. Next, feed in the value of the known unit that you want to be converted into its other various values. As soon as you provide the value, the fields of all other relevant values are automatically updated as per their computed/converted values.
The units available under the Basic and Advanced tabs comprise the following:
Length
Area
Volume
Velocity
Angle
Temperature
Mass
Time
For the conversions based around the scientific units, the app lets you work with the following:
Acceleration
Force
Torque
Pressure
Power
Energy
Electric current
Electric potential/ charge
Electric field strength
Magnetic field strength
Magnetic flux density
Metric prefixes
The last tab on the app's main interface is dedicated to displaying the values of the popular universal Constants. This is from where you can find the values of Pi, Golden ratio, Euler's constant, plastic constant, parabolic constant, speed of light, gravitational constant, Planck constant, Avogadro's number, Gas constant, Atomic mass number, Coulomb's constant, Bohr magnetion, Faraday constant and electron/neutron mass etc.
All in all, a handy conversion tool for students, engineers and anyone else dealing with mathematical and scientific calculations alike. Cool Converter is available in the Google Play Store as an ad-supported free, as well as an ads-free $1.30 variant.
Download Cool Converter (Paid)