Diagnostics: Official System Diagnosis Tool For Samsung Devices [Android]
Are you unable to make calls from your Samsung Galaxy S or experiencing connectivity issues with the Bluetooth of your Galaxy S II? Well, if you own an Android-powered Samsung device and are looking to get it diagnosed on-the-go, then Samsung's official Diagnostics app might offer some help. Packed with device-specific troubleshooting tools and in-app support for firmware updates, Diagnostics can prove to be a handy utility and an able assistant for Samsung users. In addition, the app also displays the device's system information and helps novice users get a better know-how of their device via a brief tutorial. Can't find enough helpful content from within the app? No worries, Diagnostics can also connect you to the online customer support center (helpdesk) of the company.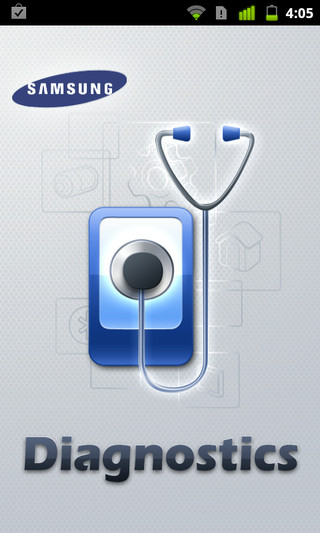 Although most electronic devices have a user manual included within the package, it isn't always possible to carry it with you everywhere nor can you get enough help from it when it comes to troubleshooting your device. Moreover, considering not everyone is tech savvy, it is always good to have some useful technical assistance at your disposal, especially if it comes from the manufacturer.
Diagnostics is a great initiative by Samsung to help their users easily diagnose any problems that they might face with their devices. The app, as of now, supports just a handful of areas that it can address, such as issues pertaining to calls, Bluetooth, internet connectivity and device display, but with the support for online assistance, you can rest assured you'll be able find substantial help for almost any problematic area of your device.
Once the app is installed, just open it up and select whether you wish to get a problem diagnosed, want to get familiar with the way your device works via a brief Device Tutorial or get detailed System Information.
In case you opt to run a diagnosis test, you can select from a variety of categories relevant to your problem. For each selected category, you can browse through multiple questions, each referring to a specific technical issue that is common with your device. Provided your problem actually falls within the available pool of questions, you can simply try out proposed solutions. If not, you can always take the online assistance route.
And the best part about Diagnostics is that all troubleshooting and assistance provided via the app is absolutely free. So, if you're running Android OS 2.2 on your Samsung smartphone, then hit the Android Market link below to download the app.
Download Diagnostics for Android