Disable Radio And Use Wi-Fi On Any Android Device Without Airplane Mode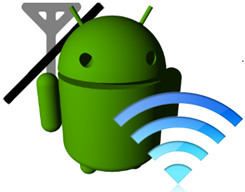 Do you have an old Android device lying around in the drawer somewhere that you were contemplating on using as an Mp3 device? Stuck with an Android phone that is no longer activated? Devices in such condition can still serve the purpose of a movie or music player or are even great for surfing the internet on Wi-Fi. You must be aware that Wi-Fi and radio are at the top of the list when it comes to battery consumption, and for a device meant to be used as an Mp3 player alone, it's not fair that the device keeps checking for a a service signal and consequently be wasting some vital battery juice. Of course there is the Airplane Mode that does that for you, but you would have to enable that option every time you turn the device on. This is where this Wi-Fi Only script comes in handy, and you have XDA-Developers forum member Condemned Soul to thank for that. The script is meant to run on any rooted Android device running any ROM.
Further credit goes to Scary Alien, CPCookieMan, & MongooseHelix.
According to the developer, "This is a very simple script that utilizes the radiooptions command to disable the radio but still allow use of WiFi without having to use airplane mode. Great for people who just upgraded and want to use their older device for an mp3 player with WiFi access. I wanted to make it to be run in init.d on startup but haven't successfully got it working that way yet so for now it can be run with script manager."
The best thing about this script, is that it can be made to run on boot as well, so you don't have to go through the hassle of running it every time you reboot the device. How to use this script to enable Wi-Fi Only? It's pretty easy, we'll show you how.
Disclaimer: Please follow this guide at your own risk. AddictiveTips will not be liable if your device gets damaged or bricked during the process.
Requirements:
Instructions:
To begin, download the script from the link above and copy it to the root of your SD card.
Install the Script Manager app on your device.
Run the app and select the Wi-Fi Only script when shown a file browser.
Selecting the app will open up a page as shown below:

Check the Run as root option and if you wish to run this script at boot as well, check the Run at boot option.
Lastly, hit the Run button to run the script.
That is it! The script should now be working in the background and keeping your radio disabled. For updates and queries visit the forum thread at XDA-Developers.