DocuSign Ink: Digitally Sign Documents, Upload To Cloud & Share [Android]
Have you ever imagined how much time, effort and money is involved in faxing or mailing a vital document, especially if it is needed to be done on a regular basis? Add to it sensitive documents that have your signatures printed on them, and it becomes risky too. This is where digitally signed documents and emails come in handy. DocuSign is a secure, cross-platform service that lets you store your digital signatures and initials on the cloud. Any document that you wish to sign can be instantly uploaded to the service, from where you can stamp your signature and/or initials on them, and forward them in one go.
To cater for the digital signature needs of smartphone users, said service has a mobile client by the name of DocuSign Ink. The app lets you access, sign and upload all your digital documents on the go. Supporting almost all the major media and document file types such as PDF, DOC, JPEG, PNG et al, the app makes signing digital documents a breeze. Initially available only to iOS users, DocuSign Ink has recently made its way into the Android Market.
DocuSign Ink might not be the very first app of its kind to arrive in the Market, but it certainly is among the most simple to use. The app encrypts all documents uploaded to the cloud to provide you a safe documentation environment.
Only registered users can access the app's content. There are multiple ways to sign in to the app. You can either log in with your DocuSign Ink account, or associate your Facebook, Windows Live, Google or Yahoo! account with the app.
From the app's homescreen, you can Sign a Document, access your DocuSign Ink docs (My Documents), your profile (Manage Identify), or Sign Out of the app.
Tapping the Sign a Document option lets you import an image file from your device's gallery, capture a new one from within the app, or navigate to the required document file in local storage using a file explorer. You may import multiple files, and have the app upload them all at once to the DocuSign Global Network. After that, it's just a three-step affair:
1. Draw your digital signature, as well as your initials, and tap I Agree.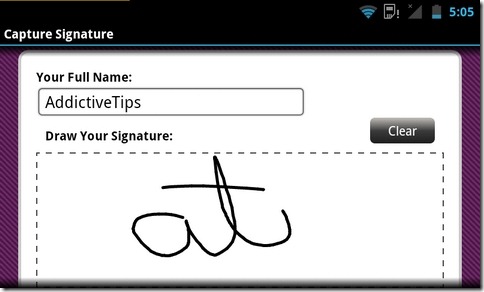 2. On the screen that follows, tap the pencil icon, and select the elements that you wish to add to the document (Signature, Initial, My Name, Date Signed, Text, and/or Checkbox). Each element can be repositioned and rescaled on the document as required. The document itself can be zoomed in/out for fine adjustment of added elements. Tap Finish when you're done.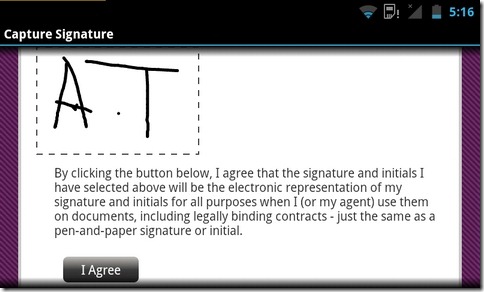 3. In the final step, provide the recipient's details, insert a brief message, and tap Send.
Tapping the My Documents option on the app's homescreen provides you access to your sent as well as pending signed documents. You can access all your documents from both your desktop and smartphone, edit them, and share them with your contacts with utmost ease.
Download DocuSign Ink for Android