Download And Install ANDRODeNa Theme For Samsung Galaxy S
If you are a Samsung Galaxy S owner with root already, then it's time to get some delicious hand-cooked Custom ROMs with exclusive themes like ANDRODeNA Glassica . This custom theme for Samsung Galaxy S comes from dena994, senior XDA Android Developer and hacker. The theme is pretty pleasant aesthetically with well placed widgets and excellently distributed onscreen features. One of the most intriguing factors associated with ANDRODeNa is exquisite black theming all the way up-to signal bars, battery, notification icons etc.
Here is a list of all the goodies that come packaged with this theme: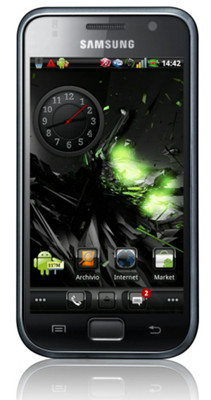 Full Framework
Dock Launcher PRO
New And Enhanced Waiting Cursor
New Styled Analog Clock
Complete Revamped Icon Sets etc.
Here is the step by step guide on downloading and installing this theme on your Samsung Galaxy S:
The first step is to download Root Explorer from Market.
Now launch Root Explorer and Allow Super User permissions.
Once this is done, download Settings.apk along with framework-res.apk and twframework-res.apk [Download Link Given In Reference Section].
Now extract the files and copy the downloaded APK files to your SD Card root.
Now launch Root Explorer again and copy Settings.apk in system\app and framework-res.apk along with twframework-res.apk to System\Framework.
Once this is done, your phone will reboot automatically.
On the reboot you will see the ANDRODeNa rocking your Samsung Galaxy S.
According to developer, this theme has been tested and works flawlessly on Samsung Galaxy S with ROMS ranging from JM5 to JM7.
Reference Links:
APK Downloads And Further Information Is Available Here.
Disclaimer: Please attempt this guide at your own risk. AddictiveTips won't be responsible in case your device bricks or any other damage occurs due to this method.