Forward Multiple Ports And Create Simple Rules With Smart Port Forwarding
Port forwarding is required to accept an incoming request TCP-IP package from remote computer(s), so that communication between originating and target sources can be initiated. Port forwarding applications do nothing excepts simplify the whole process of creating a port forwarding rule. Like the previously reviewed Simple Port Forwarding – a tool which shortens the steps involved in forwarding port for listening incoming connections, Smart Port Forwarding is another application which promises the same functionality in a much simpler and smarter way.
It lets you create rules that are to be matched with the incoming request/package in order to connect through the port in question. Creating a rule is easy and takes hardly few seconds to enter the HEXadecimal or Text content with defined port number. The general usage of application is pretty simple too, on the main interface, right-click to select Add New Forwarding Port option, a new dialog will show up, now enter details for port forwarding and to create rule for it.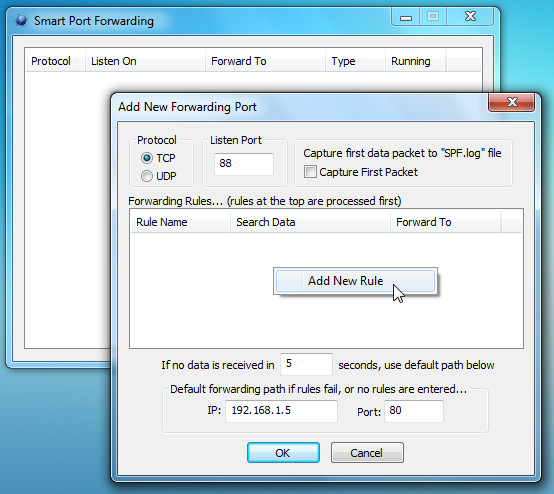 The application lets you enter number of seconds for listening to the opened port, if connection in defined time is not established, you can direct the request to specified default forwarding path. To create a rule, just right-click in bottom pane, select Add New Rule and enter Hex or Text data. If defined data (HEX or Text) is found, it will forward to the port as per specified rule.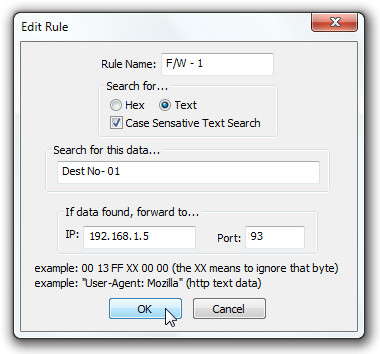 You can create as many rules as you want in similar fashion, it is to be noted here that rules are processed in a sequence (top to bottom). Once rules are defined and all other port forwarding settings are in place, click OK to list the port forwarding settings in main interface. Down the line, if you'd need to add another port forwarding or edit/delete or start/stop any created port forwarding, right-click one in question and select the option from the list.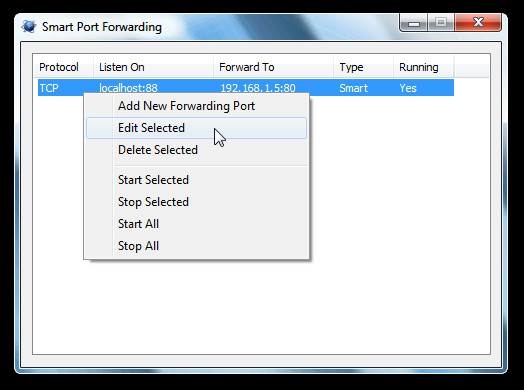 Since in Simple Port Forwarding tool, you need to define router settings, and check if port is being properly forwarded or not, Smart Port Forwarding proves to be much easier as far as the usage is concerned. The application was tested on Windows 7 x86 system while it supports all versions of Windows.
Download Smart Port Forwarding