Download And Install Official Android 2.2 Froyo On Samsung Captivate
Finally we have some great news for Samsung Captivate owners waiting for their delicious Froyo. Although it's not official, but the official Samsung Captivate Android 2.2 Froyo build has leaked to the surface and looks quite promising. You can now install Android 2.2 Froyo on Stock/ un-rooted Samsung Captivate easily.
Before we embark on installing this update on your captivate, let's have a look at the package. As per Android Spin, the official Android 2.2 Froyo leaked update for Samsung Captivate has: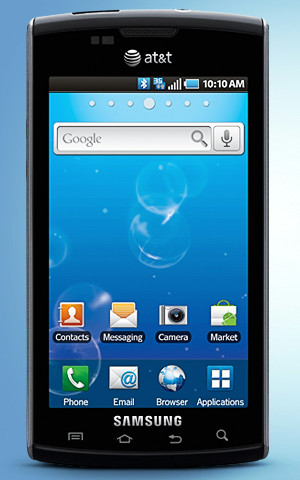 Colored icons in settings
GPS Fix
New keyboard
Android 2.2 search widget
GPS, Auto Rotation on notifications bar
Darker menu theme
Pop up notifications are darker
New "Development USB" icon
New app icons (AllShare, Clock, Calendar)
Media Hub
Nook app
JIT Compiler
Better Exchange support
Android 2.2 Market improvements
Improved notifications bar icons
Pinch to zoom homescreens
Adobe Flash Player 10.1 available in Market and working
Here are the step by step instructions on installing official Android 2.2 Froyo on your Samsung Captivate:
Please note that this guide is intended for non-rooted stock Samsung Captivate users with Windows OS on their computers.
The first step step is to download and install Samsung USB drivers: Download for for 32 Bit Windows | for 64 Bit Windows.
Now Download Android 2.2 Froyo official build for Samsung Captivate from here and save it on your desktop. [EXE File Format]
After you have download the official Froyo build, connect Samsung Captivate's original USB cable to the computer but not the phone.
Now launch the .exe file you downloaded.
Once this is done, put your phone in download mode by holding volume keys and inserting MicroUSB cable in the phone. [The cable should already be connected to the computer as per Step 2].
Now your phone will be recognized by the exe file you just launched. Click the "start" button and wait for the magic to happen!
Once this is done, your phone will reboot and you will be left with Android 2.2 Froyo on your Samsung Captivate. Enjoy!
Disclaimer: Please note that we have not tested this update ourselves but many users have tipped this method as working for them. Proceed at your own risk and AddictiveTips won't be responsible if your device bricks or any other damage incurs due to this method.