Sprint Sanyo Zio Price And Specifications
As we talk of more and more carriers entering the Android scene, Sanyo has also emerged as one of the Android contenders with Sanyo Zio. According to Android And Me, Sanyo Zio is the cheapest Android phone that Sprint will be offering to it's customers. We don't really know about being the "cheapest" Android thing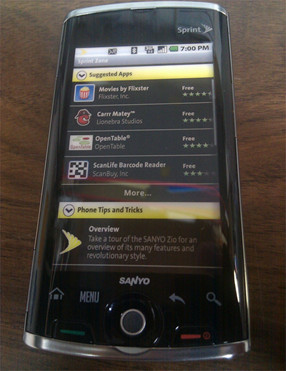 as per claims, but this phone possesses one heck of a weird name for sure. The phone is not ugly looking for sure but we weren't able to identify the beauty from the pictures also. Back in August, the same handset was in Cricket Wireless offer list and retailed for $ 249, which for the specs, isn't cheap at all.
Ok, so we end our usual critical rant here and let's get straight to the specifications part.
Android 2.1 Eclair OS
600 MHz Qualcomm Processor
3.2 Megapixel Primary Camera
3G Compatible
TFT Capacitive 3.5 Inch Touch Screen
480 x 800 Screen Resolution
Bluetooth
Wi-Fi
1130mAH Battery
512 MB Internal Memory
MicroSD Card Slot
Accelerometer
Digital Compass
GPs/ AGPS
This bar shaped phone might act as a deal maker with zero charges from Sprint on bi-annual commitment. The thing that looks pretty disappointing in this phone is excruciatingly low-powered battery, that might not be fit enough for users with extensive emailing, texting and gaming needs. Sanyo Zio's processor indicates that this cell phone might not be able to make it to Android 2.2 Froyo; Officially of course. All in all, a good phone for users who are looking to make their first leap in the Android world.