Download Android 2.2 FroYo ROM For HTC Touch CDMA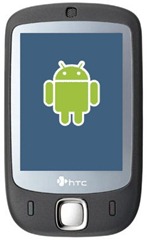 Still using an HTC Touch CDMA but want to breathe now life into it by updating it to Android? While none of HTC's Windows Mobile devices will ever get any official Android ROM directly by HTC, that doesn't mean things will remain the same if the independent developer community has a say in it. We now have an Android 2.2 Froyo ROM available for the HTC Touch CDMA, and you can install it on yours right away. For more information, download links and installation instructions, read on after the jump.
HTC Touch CDMA was the first CDMA smartphone in the popular Touch series by HTC and despite the availability of several new devices, it is still used by many loyal users. A while back, this device has been made to run Android as well and now with this new Froyo build, things are getting even better!
This build was developed by XDA-Developers forum member casacristo and is based on another build called Dzo's Fresh Froyo. It has been tested to work with kernel version 2.6.25 which you can download from the link provided below and install. This ROM features ADWLauncher 1.3.3, Astro File Manager, battery percentage indicator and removal of several unnecessary apps. The developer has also provided the removed apps in case you need them.
There seems to be an issue with Wi-Fi in the provided Kaiser kernel but you can fix them by installing the updated kernel modules provided below, as an update.
Disclaimer: Please follow this guide at your own risk. AddictiveTips will not be liable if your device gets damaged or bricked during the process.
Before you install this ROM, make sure you have unlocked your phone with the 2.31 CoKe HardSPL, if you haven't done so already. Next, download the ROM, the 2.6.25 kernel and the updated kernel modules from the links given below and install them using the SD card method of running Android on the HTC Touch CDMA, in the same order as they are mentioned here. If you also want the removed apps, download them from the link given below as well and install them yourself.
Your HTC Touch CDMA should now be running Android 2.2 Froyo. Enjoy the experience, and don't forget to let us know about it in the comments below.
For more information, questions, feature requests or help with issues, visit to the ROM's thread at XDA-Developers forum and contact the developer.
Download Froyo ROM for HTC Touch CDMA
Download Kernel 2.6.25
Download Kernel Modules
Download Removed Apps