Enable Automatic Call Recording On Samsung Galaxy S I9000
Now you can record calls automatically on your Samsung Galaxy S I9000 thanks to XDA-Developers forum member antsm who has come up with a mod for the phone app that allows you to automate call recordings. In addition, Dark3n has also developed an app that allows you to control the features of this mod very easily! If you have a choppy memory or you like to keep records of all your conversations on this Samsung Galaxy S Series device, this mod is a must for you.
The mod, so far called Phone.apk, has the following features to offer right now: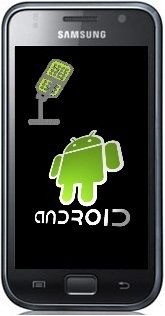 Calls are automatically recorded, both outgoing or incoming.
Call recording continues even after actions such as hold, conference mode etc.
Recording continues even when the dialer is minimized to background.
Now when this mod is coupled with Dark3n's Automatic Call Recording Control, the user can easily toggle the given options in the mod through a simple GUI. The app allows you to do the following:
Toggle automatic recording on or off for incoming and outgoing calls.
Change file naming pattern for the recorded calls.
View .rec_template file.
The image below courtesy of Dark3n shows you just how simple the app actually is.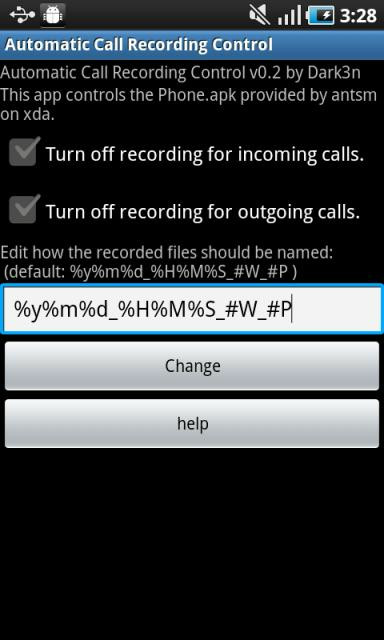 Now let's install the mod and then the app using fairly simple procedures.
Requirements:
Your phone must be rooted. If not, see our guide on how to root the Samsung Galaxy S.
ClockworkMod Recovery installed. See our comprehensive guide on how to install ClockworkMod Recovery on Samsung Galaxy S.
Android 2.2.1-based firmware installed. This mod will NOT work on 2.2.
Voice Recording Mod (Copy the zip file to the root of your SD card)
Download Automatic Call Recording Control (Copy the APK file to your SD card)
Instructions:
Power your phone off and boot it into ClockworkMod Recovery.
Wipe cache and Dalvik cache. Do NOT wipe data/factory reset, or you'll end up loosing all your apps and user data.
Select 'Install zip from sdcard'
Select the zip file for the mod and wait for the installation to finish.
Reboot, and then from any file manager (such as our favorite Astro File Manager), install the Call Recording Control.apk file.
Uninstallation:
During the installation process, the script automatically backs up your original Phone.apk and related files to your sd card. To roll back, simply flash this zip file from recovery.

Voila! All done and good to go, you now have automatic call recording setup on your Samsung Galaxy S. Now your friends and co-workers better be really careful with what they say the next time they call you. Please provide us with your feedback on this app, and for any suggestions or queries, visit the thread at XDA-Developers.