Enable Multi Touch On Moto Defy With MultiTouch Enabler
Although Motorola Defy is an excellent well spec'd device, but the absence of multi touch is more than just a menace. Having no multi touch means that Defy users are missing on Pinch To Zoom feature that is a must have for optimized browsing and game play. Defy MultiTouch Enabler is the life saver app for Moto Defy users unleashing the true potential of device through Multi Touch. The app has been thoroughly tested on Moto Defy units running CyanogenMod 7, MIUI, Android 2.3 Gingerbread Blur and Froyo Blur.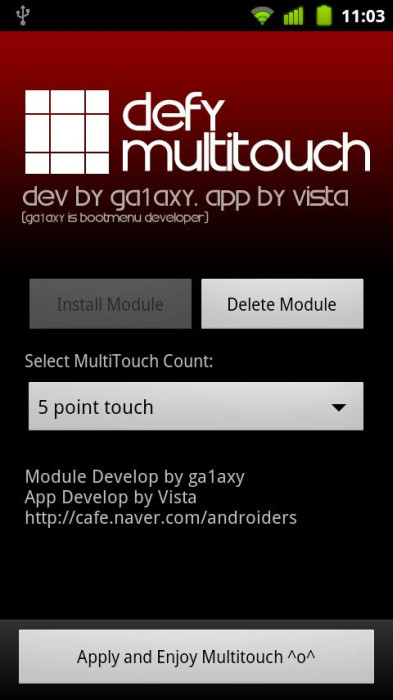 Here is how you can install and make this app provision your phone with Multi touch.
Please note that this hack is only intended for Motorola Defy and must not be played with on other devices.
The first step is to download Defy MultiTouch Enabler by Vista from Android Market on your phone. The app is free for now so better get it before it starts costing you anything.
Once you have downloaded the app on your phone, tap to launch the app.
Once the app is open, tap on Install Module tab.
Now select the multi touch count from a 2 to 10. We believe that setting the count to 4 will be enough for your everyday use.
Once you've set the multitouch count, tap on Apply and Enjoy MultiTouch tab.
And there you go! Now you have multitouch on your Motorola Defy ready to show it's awesomeness during browsing, playing angry birds and everything that requires two fingers on screen. You can either leave feedback on Android Market for this app for follow the developers on twitter @NexusRoi. The credits for this app go to Galaxy1 And Vista at Naver Android portal [Korean]. Although the app requires no special permissions, but we believe that you will need to have root along with a custom ROM to make this work. Please do let us know if this installs and functions without root in comments area below.