Fix Cannot Connect To YouTube Error On iPhone And iPod Touch With YouTube Fix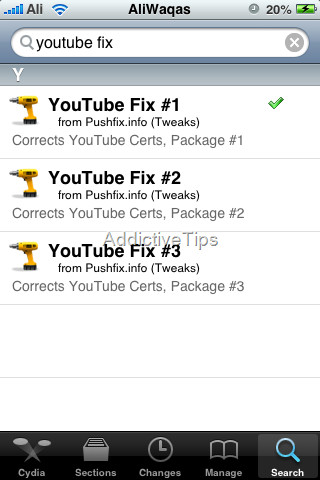 Many of us face the dreaded "Cannot connect to YouTube" error after jailbreaking iPhone and iPod Touch. The error occurs due to some signature-related issues caused by jailbreaking tools and isn't common to every jailbreak. The fix for this error is a  very simple Cydia tweak called YouTube Fix and all you need to have is Cydia store installed on your iPhone or iPod Touch, which you already have, if you have jailbroken your device.
Watching videos on today's smartphones is a pleasure and when it comes to videos from the internet's biggest public video archive i.e. YouTube, most modern mobile platforms have a dedicated app available. On iOS devices, upon jailbreaking them, some users experience the "Cannot connect to YouTube" error when trying to watch any YouTube video, depending on the method of jailbreaking they used. If you get this error as well, you are at the right place.
In order to fix YouTube on iPhone and iPod Touch after jailbreak, you need to follow these simple steps:
The first step is to launch Cydia.
Now tap on search and type "Youtube Fix".
Once search results are displayed, tap YouTube Fix #1 .
Now press "Install" button on top right corner.
Wait for installation to finish and tap on Restart tab.
This installation doesn't require a reboot but it is suggested to reboot your iDevice.
Now tap YouTube icon on your iDevice and play any video to see if "Cannot connect to YouTube" error is gone.
If you can watch the video, you're done. If you still get the error, try the other two options i.e. YouTube Fix #2 or YouTube Fix #3 the exact same way.
There you go! You can now watch all the YouTube videos on your iPhone or iPod Touch that you want, without getting greeted by that nagging error again.