Fix Samsung Captivate GPS Issue, Get Position Faster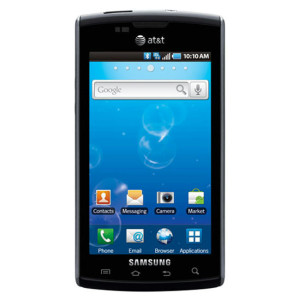 The GPS receiver of Samsung Captivate is definitely not amongst the device's best performing components. Many users have had issues with it, and several fixes have been released but those can often be lengthy and complicated processes, like the process we featured earlier on fixing the GPS on Samsung Galaxy S. If you have been frustrated by the GPS issues and the complication of the fixes available so far, we've got some great news for you. Your GPS troubles on the Captivate should now be over because thanks to GustavTheLion at XDA-Developers forum, there is now a less cumbersome way available to put the Captivate out of its GPS-related misery. Read on for more information and the complete guide.
First things first – to enable this hack, you must get into something called LbsTestMode. You can do so by getting an app called 'Any Cut' that is available for free in the Android Market. Unfortunately, Any Cut is no longer available at the Android Market. We are providing an alternate download link for Any Cut below at the end of this post. You will have to sideload the app using a file manager. We use ES File Explorer for the purpose but you may use any file manager of your choice. For those of you unfamiliar with the process, here is how to sideload an APK: You must first enable app sideloading by going to Settings > Applications (Settings > Security in Android 4+) and enabling 'Unknown Sources'. Then just transfer the downloaded APK file to your phone and launch it using the file manager to start the installation.
Once you have Any Cut installed, here is how to get the GPS fix working:
Launch 'Any Cut', go to 'Activities' and create a shortcut to 'LbsTestMode'.
Open LbsTestMode.
Select 'Delete GPS Data'.
In "SUPL/CP Settings", enter the following lines:

Server: h-slp.mnc410.mcc310.pub.3gppnetwork.org
Server Port: 7275
SUPL Secure Socket: ON
AGPS Mode: SUPL
That's pretty much it. If you do a 'Get Position Test' now while outdoors, you will get a lock much quickly. This should fix your GPS issues on the Samsung Captivate. For more details, updates or bug reports, head over to the XDA-Developers forum thread.
Did the method work for you? How is your GPS working now? Are you getting a lock quickly now after applying this hack? Know of some other method to fix GPS issues on your Captivate? Don't forget to let us know by joining the discussion in the comments below.