Follow The Latest Stock Market Trends / News With Finance360 [Android]
Amid all the hubbub that surrounds the recent dip in stock markets of some of the world's major economies, it is only befitting that one keeps a very close check on the ever-evolving financial scenario, business news and market trend forecasts. Finance360 is a free Android app that has been aimed at providing business stakeholders, enterprises as well as general public with the latest ongoing market trends and stock market updates. With in-depth information pertaining to the top business stories from around the world, ably supported by graphical stock trend analyses, personalized finance news and comprehensive economical surveys, Finance360 offers a wide array of features that would surely comply with your daily quest for financial news.
Finance360 gathers updated financial data (news, trends, market analyses) from Yahoo! Pipes service and displays them on your device through a rich, interactive UI. In-built support for charts, graphs, images, article-sharing and easy-switch between web view and article view make Finance360 more than just a run-of-the-mill news source. The app features news feeds flowing in from core financial constituents such as bonds, mergers, acquisitions, investments and business strategies/ideas etc. In just a few taps, you can jump back and forth between the required piece of information. Need to share some vital news? There is the option to do so right from within the app's news content segment.
Market Data within the app is there to provide you with recent stock market trends from all over the world along with supporting news summaries and charts for various market subsections such as world currencies, commodities and trending stocks based on market cap, price, volume and popular relevant searches on Google. Users can check trend analyses of selected markets ranging from one day (the previous day) to the last five years.
With My Stock, you can easily track your own preferred stock markets, manage them, check updated stock news and summary for each and get all the relevant stock data displayed on an interactive chart with RSI and volume indicator.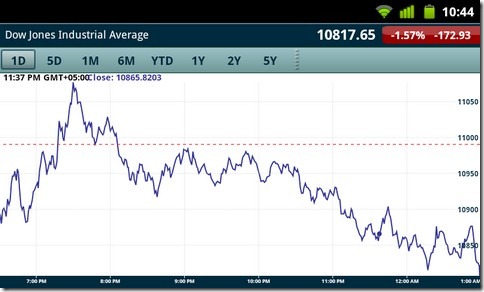 To keep the ominous prospects of 'yet another recession' at bay and to stay ahead in the fiercely growing market competition, it is hugely imperative that you know your stock market well enough to devise timely strategies and Finance360 can prove to be a worthy companion for you in this regard. Interested users can download Finance360 from the Android Market free of cost.
Download Finance360 for Android