Historious Athens For Android: Navigate To Historical Locations Around Athens
Love exploring historical places? Looking for a feasible travel route to one? Try Historious – a location based travel guide for Android that makes tracking nearby (and the world's most famous) historical places quite convenient. Designed specifically for tourists, Historious packs some very useful background description, maps, routes and images relevant to various locations that reflect the history of a particular location. The app also helps you locate other nearby facilities (shops, hotels and bars etc.) to keep you entertained while you're on a visit.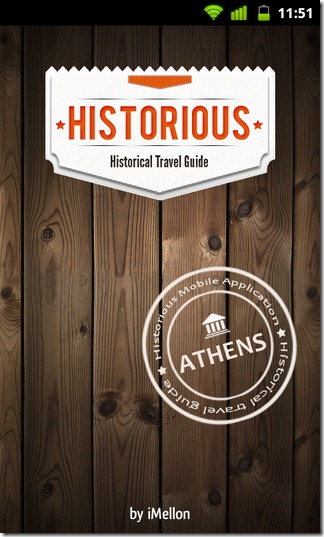 Ranging from the historic locations of the ancient Greek civilizations to some of the most valued museums of the world, Historious has records of all. With Historious, you can easily track historical places and/or routes on map via GPS. To track a nearby historical location, just fire up Historious on your device, tap the Places button, select an appropriate search range (in terms of distance) and tap NEARBY. To find the best Historious locations within the specified distance, just tap TOP 10 and the app will display a list of the most famous historical places in the area along with their distance from you.
For each displayed location, you can view brief yet intriguing information, images powered by Panoramio, track your preferred place on a map, get complete and accurate directions/routes to reach there and trace nearby hotels, food, drink and shopping points along with their names and distance from you. The in-app calling facility can be availed to book a tour or reservation at your place of interest.
The app also has a collection of some of the most memorable historical routes that you can embark on, to find out exactly what and how many places were involved in making the journey a memorable one. Each location inHistorious can be liked, added to favorites and/or shared with your friends.
Although somewhat scarce in terms of places and routes (as of now), Historious is extremely easy to use and absolutely free.
Download Historious Athens for Android
Update: To our utter surprise, and for some odd reasons, the app has been renamed in the Google Play Store as Historious Athens, and quite appropriately, supports locations from Greece's capital city only. While most of the features of the app remain more or less the same, but as mentioned earlier, the app is now only as good a travel guide for those travel fans who're looking to explore the beauty of Athens.