How To Boot Your Android Phone Into Recovery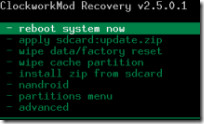 The recovery console can be quite useful in backup up or restoring your Android phone, as well as flashing custom ROMs to it. While power users are familiar with booting our phones into the recovery console, beginners face trouble doing so. The following is a small guide to help you boot your phone into recovery mode.
Before you can boot into it, you must already have the recovery mode installed. To install it, you can follow our guide on how to install Clockwork Recovery to your Android phone.
Once it has been installed, booting into ClockworkMod recovery is pretty simple. You can either launch Rom Manager and tap 'Reboot into Recovery', or use the following method to manually do so:
Power your phone off and then boot it into bootloader / fastboot mode.
Once in bootloader / fastboot mode, use your phone's volume keys, trackball or optical sensor to scroll to the option saying 'recovery', and that's it. Your phone will now boot into Clockwork recovery.
Note: Booting your phone into its bootloader / fastboot mode uses your phone's hardware keys, and varies from phone to phone. For most phones, you can do so by keeping the 'Volume down' key held, pressing the 'Power' key and then releasing the 'Volume down' key once you see the bootloader screen. In case this does not work, try doing it with the 'Volume up' key instead of the 'Volume down' key. If you still can't get it to work, you can do a quick Google search using the keywords "how to boot <device name> in recovery".