How To Install ClockworkMod Recovery On Your Android Phone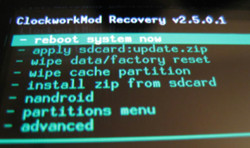 Clockwork Recovery (also known as ClockworkMod or ClockworkMod Recovery) is a recovery console used to perform a range of operations on Android devices. It is widely used by those who customize their phones by flashing custom ROMS to them. It also allows you to perform and restore backups of your Android phone. Fortunately, installing it is a very easy process. Read on after the break to find out how.
UPDATE: To learn all there is to learn about ClockworkMod recovery, see our detailed guide on what is ClockworkMod recovery and how to use it.
Your phone must be rooted prior to the installation of ClockworkMod. The rooting procedure differs from phone to phone and you can do a quick search on our site to find out process for yours, or just visit our Android rooting guide. Once you have the phone rooted, simply follow these easy steps and you will have Clockwork Recovery installed on your phone in no time!
From your phone, launch the Android Market and search for a free app called 'ROM Manager'. Once found, install it. You can also find it at AppBrain using the link given below, or scan this QR Code to get it directly on your phone.
Once it has been installed, launch 'ROM Manager' on your phone.
In ROM Manager, tap 'Flash ClockworkMod Recovery'. Specify or confirm your phone model if prompted during the process, and follow any on-screen instructions.
Be patient as ClockworkMod is installed, as it can take quite some time. Once the process if finsihed, you have ClockworkMod installed on your phone.
Once it has been installed, booting into ClockworkMod recovery is pretty simple. You can either launch Rom Manager and tap 'Reboot into Recovery', or use our guide on how to boot your Android phone into recovery.
Download ROM Manager from Play Store