How To Bring Back Windows Phone Marketplace In Zune [Hack]
A few days back, Microsoft announced two major changes regarding WP7 – app support for pre-Mango versions of Windows Phone 7 was finally dropped (which shouldn't be much of an issue, given the fact that no existing WP7 device is incompatible with Mango), and rather surprisingly, the guys over in Redmond killed the Windows Phone Marketplace in Zune. This may be to counter cracking of apps, or maybe the Zune Marketplace was just thought to be extraneous after the web Marketplace became active. Whatever the reason behind this move may be, apparently, it isn't too difficult to get the Zune Marketplace back. Anyone can do this, even those who don't have a developer unlocked device. In fact, to follow the method to hack the WP7 Marketplace back to Zune, you won't even need to touch your phone, as everything will be done on PC.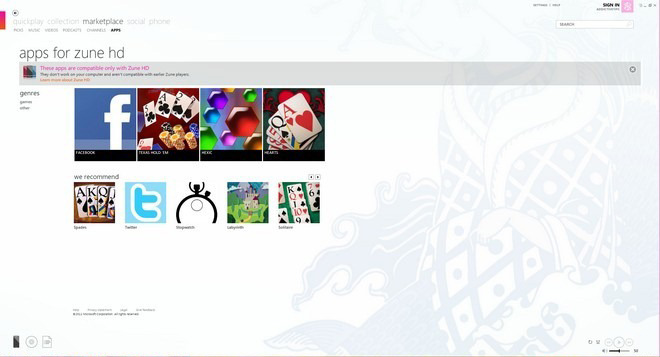 Look at the screenshot above. That is all what's left of Zune's Marketplace – just a few apps targeted at Zune HD, and not a single one for Mango phones. So, how can you restore things back to the way they were previously? Simply by using any registry editor! Just follow the instructions outlined below, and you will have the Marketplace up and running in no time.
Disclaimer: Please attempt this guide at your own risk. AddictiveTips won't be responsible in case your system gets damaged in any way in the process.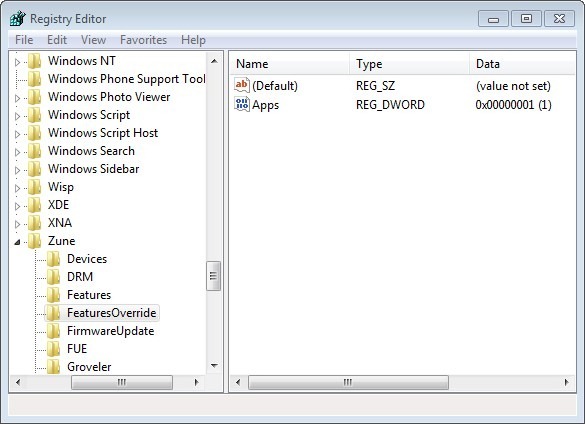 Instructions:
Start Zune. Although this isn't necessary, but it is better if you keep Zune running in the background while following these instructions.
Launch the registry editor of your choice (or simply enter "regedit" (without quotes) in Windows' Run dialog and hit Enter).
Navigate to HKEY_CURRENT_USER.
Under that folder, you will find Software. Select that.
The next step is to go to the Microsoft folder, followed by Zune. Steps 2 to 4 constitute the following path:
HKEY_CURRENT_USER\Software\Microsoft\Zune
Once you have reached Zune, choose the main folder and add a new Key (by right-clicking the main area displaying Name, Type and Data). This key will show up as a new folder in the registry hierarchy under Zune.
Rename the newly created Key to FeaturesOverride.
Now click the FeaturesOverride value you just created, and in the area to the right of the screen, add a new DWORD (32-bit). This can be done from the same right-click menu that was used in step 6.
Name the new DWORD "Apps" (again, without quotes), and set its value to 1 (by clicking it and assigning the value in the menu that comes up).
Exit the registry editor, and close Zune as well.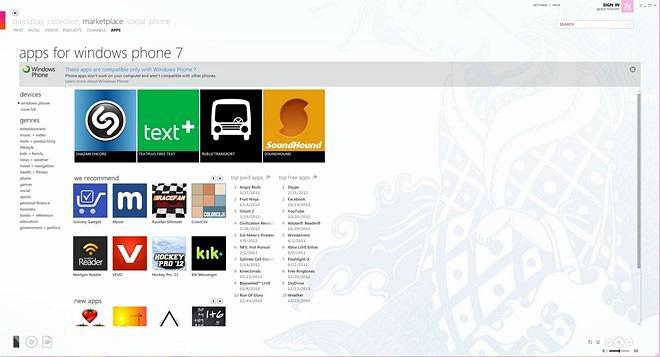 Now, you will see that the next time you launch Zune, the Marketplace will be back in all its original glory, and you can use it to download apps just like the good old days. The method worked flawlessly for us, and there were no apparent drawbacks, but tinkering with registries can be a dangerous task, so take care in performing each of the steps outlined above.