How To Delete Individual Photos From iCloud Photo Stream In iOS 5.1 Beta 2
iCloud is a feature in iOS which Apple is really proud of, as is evident from the recent iPhone and iPad ads. Despite being such a useful service, iCloud has its drawbacks as well. There have been many horror stories of people unintentionally sharing personal photos over the cloud, which were meant to be kept private for good. This is for the sole reason that once you have Photo Stream turned on, every photo you snap using your iPhone, iPad or iPod touch will be automatically shared across all the devices where your iCloud account is set up. If you fall victim to such a scenario, there is no way of deleting individual photos in Photo Stream, and you will have to remove the whole collection to get rid of one photo. However, with the latest version of iOS in its second beta testing phase, things are looking positive, as now individual photos can be deleted in iOS 5.1 beta 2. Having said that, this does not mean that there is some plain Delete button in clear view in the Photo Stream, you still need to know exactly what you are doing in order to get rid of photos.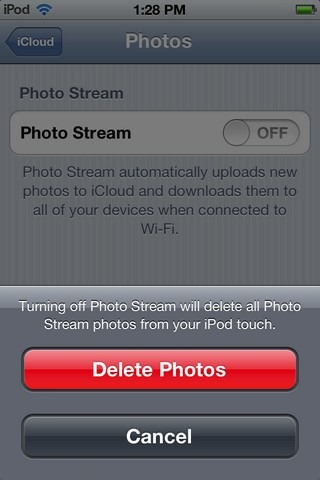 Since the feature was in demand by many iCloud users, it seems likely that it will stay in all the versions of iOS which come after the current one. Deleting a photo from your cloud's Photo Stream is now as simple as deleting it from your camera roll. When you open the Photo Stream menu in your phone's settings, you can still delete the whole stream like it was possible in the previous versions of iOS, but if you open a specific photo, you will see that at the top right there is now the delete button available.
Once you delete one photo from the stream, it will disappear from all the devices' Photo Stream, but remember that the picture will remain available in the camera roll of the device from which it was originally snapped. A pretty useful feature, and coupled with tweaks like Screenshot Dam, it looks like iCloud is fast becoming a useful service which is not going to have any negatives. However, it has to be said that there is still a lot of room for improvement , and Apple has to provide users full control over their stream so that they can choose to share only what they really want to.