How To Gain S-Off On HTC Desire GSM & CDMA With Revolutionary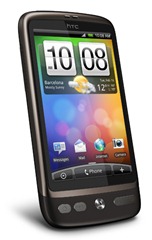 The HTC Desire has come far in terms of development, where Unrevoked is still the tool of choice when it comes to rooting the Desire, and gaining S-Off used to be cumbersome task. Then a tool named AlphaRevX was released that allowed you to gain S-Off on the Desire in no time. From the developers of Unrevoked and AlphaRevX, now comes the one click S-Off tool called Revolutionary.
Revolutionary supports both the GSM and CDMA versions of the Desire whereby the tool would only work for the GSM version running HBOOT version 0.93.0001 and the CMDA version running HBOOT version 1.06.0000. Using this tool is the simplest task for even the most novice user, we shall show you how and why.

Disclaimer: Please follow this guide at your own risk. AddictiveTips will not be liable if your device gets damaged or bricked during the process.
Requirements:
HTC Fastboot drivers.
Make sure HTC Sync is uninstalled.
Instructions:
To begin, head over to the Revolutionary portal and download the tool for Windows.
The download will commence and a form with varying fields will open. Do NOT close the page and wait for the download to complete.
Meanwhile, connect the phone to the computer via USB and make sure USB Debugging is enabled. (Settings > Application > Development).
Once downloaded, extract the contents and and run Revolutionary.exe.
You will now see a serial number. Copy that and paste it into the field named Serial number in the webpage that was opened.
Once the fields are completely entered hit the Generate button to be given a key.
Copy that key and paste it at the relevant position in the terminal window.
Let the tool do its thing, so wait patiently as your phone gains S-Off.
That's it, your device should now have S-Off enabled.