How To Gain S-OFF (Radio And Engineering) On HTC Desire HD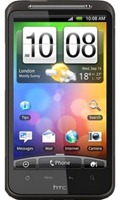 We have previously featured a guide on how to root HTC Desire HD and now, we are continuing this series with this comprehensive guide on gaining the S-OFF flag on your phone to gain complete control over it. This is basically done by installing a custom bootloader to the phone that has the S flag set to off, allowing you to install a custom recovery image and thus, flash a custom ROM to your phone.
After you are done with following this guide, you should have an HTC Desire HD ready for installation of ClockworkMod recovery that lets you flash hundreds of custom ROMs to your device while having full read-write access to all its partitions.
Edit: Some users were experiencing problems with this guide in the temporary rooting phase. That was due to the old package not containing all the necessary files. We have updated the guide with those files and it should work flawlessly now.
Note: This guide will NOT work for the Telus Desire HD. If you are a Telus subscriber from Canada and have a Telus branded Desire HD, see our guide on how to gain S-OFF on Telus Desire HD instead.
Disclaimer: Please follow this guide at your own risk. AddictiveTips will not be liable if your device gets damaged or bricked during the process.
Gaining Radio S-OFF:
This method will get you the Radio S-OFF flag while SIM-unlocking it and setting up SuperCID, which means
This method will root your phone for the process if it isn't already rooted. If you just want to permanently root your phone, see our guide on how to permanently root HTC Desire HD instead.
Make sure you have ADB installed on your computer. Also, if you have previously installed VISIONary on your phone in order to root it, uninstall it first before proceeding.
Download Desire HD S-OFF Toolkit and unzip its contents to your computer.
Enable USB Debugging on your phone from Settings > Applications > Development.
Connect your phone to your computer via USB.
Launch a Command Prompt/Terminal window on your computer, navigate to the folder where you extracted the files in Step 3 and enter the following commands:

adb push su /sdcard/su
adb push Superuser.apk /sdcard/Superuser.apk
adb push rage /data/local/tmp/rage
adb push busybox /data/local/tmp/busybox
adb push root /data/local/tmp/root
adb push gfree /data/local
adb shell chmod 0755 /data/local/tmp/*
adb shell chmod 777 /data/local/gfree

Install Terminal Emulator app on your phone from the Android Market and launch it.
Enter the following command in Terminal Emulator on your phone:

/data/local/tmp/rage

In a while, you will see the output "Forked #### childs". Now press 'Menu' and tap 'Reset Term' to exit Terminal Emulator.
Launch Terminal Emulator again. You will notice that it force-closes. Don't worry and just launch it again, and you should have a root shell indicated by the # prompt instead of $.
Now enter the following commands in Terminal Emulator:

/data/local/gfree -f
sync
/data/local/tmp/root
sync

If you get a 'mkdir: /system/xbin already exists' error during the process, ignore it and proceed.

Wait patiently while the process finishes. Once it is complete, reboot your phone.
You should now have Radio S-OFF, SIM-unlock and SuperCID all set on your phone. If you just want to install ClockworkMod recovery and custom ROMs etc., you are all good to go and do not need to gain Engineering S-OFF. You may simply install ClockworkMod Recovery, find a custom ROM of your choice and flash it to your phone from recovery.
Gaining Engineering S-OFF:
You should attempt to gain Engineering S-OFF if and only if you want to gain absolute access to your Desire HD including the ability to flash a radio or edit all your phone's partitions the way you want. If you are not absolutely sure what you are about to do, we recommend that you do NOT proceed.
Make sure you have already gained radio S-OFF by following the above-mentioned steps.
Download the Engineering HBoot for HTC Desire HD and extract the contents of the zip files.
Enable USB debugging (if not already enabled) and connect your phone to the computer.
On your computer, launch Command Prompt/Terminal, navigate to the folder where you extracted the files in Step 2 and enter these commands:

adb push hboot-eng.img /data/local

Finally, launch Terminal Emulator on your phone and enter these commands, being EXTREMELY careful not to make any mistake here:

su
dd if=/data/local/hboot-eng.img of=/dev/block/mmcblk0p18

Make sure to allow when Super User access is requested. Wait till the process is finished and you're done!
You now have the Engineering S-OFF HBoot installed and with this, you have absolute control over your HTC Desire HD. You can now flash radios of your choice to your phone and have access to modify all its partitions as well as unbrick it in certain circumstances where no other method would revive your device.