How To Install Android 2.3.3 Gingerbread On Samsung Galaxy S I9000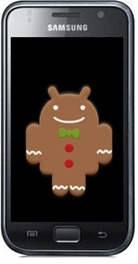 Android 2.2 Froyo never got to see the light of day officially on the Samsung Galaxy S I9000. We waited for that day till rumors about an official Android 2.3.3 Gingerbread update for the Galaxy S started going around on the internet. You were skeptic, we were skeptic, but we all eventually hoped the day would come. It did in the form of a few unofficial leaks which were instable or half done the likes of which we previously covered a few weeks back based on Android 2.3.2. That picture has changed today, and we can confirm that the Gingerbread leak, is in fact the real deal, be it unofficial since it's a leak over the internet before its time. For more on this ROM and how to install it on your Galaxy S, read on!
The ROM is stable, and includes the proprietary Touch Wiz UI by Samsung. Since the ROM is by Samsung, you can say good bye to your existing root privileges and custom recoveries. However there is a quick fix to get root privileges with this ROM once you're done with installation. For now, let's move onto the installation process.
Disclaimer: Please follow this guide at your own risk. AddictiveTips will not be liable if your device gets damaged or bricked during the process.
Requirements:
Instructions:
To begin, download the ROM from the link above and extract it to any folder.
Now reboot your phone into download mode by pressing the Vol- + Home + Power. Once the screen displays the Samsung logo, release the power button.
Once you enter download mode, start ODIN on your PC and connect your device via the USB cable.
Now that everything's set up, click on the PDA button and choose the file name starting with PDA from the folder where you extracted the ROM.
Now click on Phone and choose the file name starting with PHONE.
Click on CSC and choose the file name starting with CSC.
Once the files are all set up, make sure the Re-partition box is unchecked, then simply click on Start. Do not unplug your phone during this time and let it flash. The phone will automatically reboot once the flashing is complete.
Congratulations! Your phone will now boot into the latest Gingerbread for Samsung Galaxy S! That done, if you're interested in rooting your device, see our guide on how to to root the Samsung Galaxy S on Gingerbread.
For updates and queries, visit the forum thread at XDA-Developers.