How To Install ClockworkMod Recovery 3+ Using ROM Manager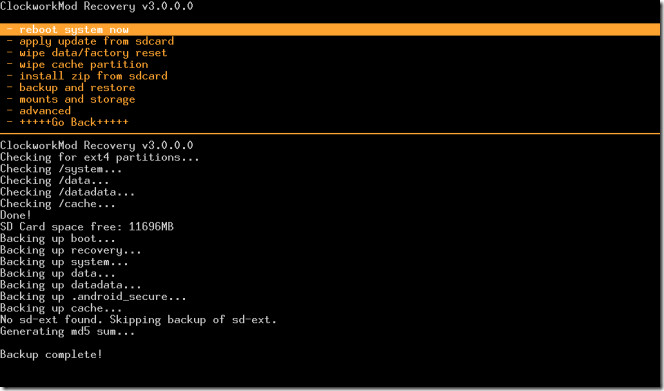 The latest versions 3+ of ClockworkMod Recovery have been out for a while now but at the moment, there is no direct way to install them to your Android device using ROM Manager. Fortunately, a quick hack allows you to change that and easily install any version of ClockworkMod Recovery to your device directly from ROM Manager.
UPDATE: ClockworkMod Recovery 3+ is now officially available for installation using ROM Manager for many devices and this trick should no longer be required unless a version for your device still isn't available. However, this trick will still come handy as a general method for installing any version of ClockworkMod recovery using ROM Manager regardless of whether ROM Manager is able to directly install for you yet or not.
For those of you who aren't familiar with ClockworkMod Recovery, it is a custom recovery image for your Android device that lets you perform advanced installation, recovery and maintenance operations on your device. You can find more details at our coverage of ClockworkMod recovery.
The latest major release of ClockworkMod recovery is 3 and while it is available for several Android devices, trying to install ClockworkMod recovery through ROM Manager will result in the latest 2.x recovery being installed instead of 3.x. While version 2 works great for most purposes, version 3 is required to install CyanogenMod 7 nightly ROMs on your device that we have been featuring here lately.
Fortunately, with a quick file rename hack, you can trick ROM Manger into installing ClockworkMod Recovery 3.x on your device. Here is the complete method:
Requirements:
Your device must be rooted. In case it isn't, see our guide on how to root your Android device.
You must have ROM Manager installed. If it isn't, install it from the Android Market.
You must also have the recovery image that you need to flash, in .img format. All officially provided ClockworkMod Recovery images can be found at the official ClockworkMod recovery image download page, though you may use this method with any official or unofficial recovery image as long as it is in the right format.
Method:
Download ClockworkMod Recovery 3.x for your device and copy it to your SD card.
Note: Make sure that it is in .img format and in case the file you downloaded was zipped, extract the .img file from it first and use that rather than the zip file.
Launch ROM Manager and tap the first option that says 'Flash ClockworkMod Recovery' and confirm the name of your device. This will install the latest 2.x version of ClockworkMod recovery on your device.
Launch File Manager, browse to the location where you copied the recovery in step 1 and copy it.
Now browse to sdcard > clockworkmod > download > koush.tandtgaming.com > recoveries.
There will be a file with a name similar to recovery-clockwork-2.5.1.3-vision.img. The part of the version number after '2' could be different and instead of 'vision', it might say something else depending on your phone model.
Rename that file by adding something to the end of the extension that you will later remember. We added .bak to it and it is now named recovery-clockwork-2.5.1.3-vision.img.bak.
Now paste the 3.x version recovery there that you copied earlier in Step 3.
Rename this file to the name the previous file had before you renamed it in the last step. This is very important, as in case of the name being even slightly different, this trick will not work. In our case, we renamed it to recovery-clockwork-2.5.1.3-vision.img
Close File Manager and launch ROM Manager again.
Tap on the first option again to flash ClockworkMod recovery. It will ask for the name of your device again, which you should confirm. Wait patiently while the recovery is flashed and you're done.
You will still see the previous version of recovery in ROM Manager but in fact it is the new 3.x version with that old file name. From now onwards, booting into recovery will get you to ClockworkMod 3.x recovery with the orange text and you can use it to flash CyanogenMod 7 ROMs to your device.
Note: Due to the number of Android devices for which ClockworkMod Recovery 3.x is available, we can't give all the download links here. This is also due to the fact that the official ClockworkMod Recovery website is under construction and we have to search a lot to look for the recovery's yet unreleased 3.x version for many devices. For now, you will just have to search for a version for your device on your own. We will soon be featuring a mirror download list of the latest ClockworkMod Recovery 3.x versions for all the devices that we can find and will then update this post with a link to that list, so stay tuned. ClockworkMod Recovery images for all officially supported devices are now available at the ClockworkMod recovery website and a link for the download page has been added to the requirements section.