How To Install ClockworkMod Recovery 5 On The Galaxy Nexus GSM Phone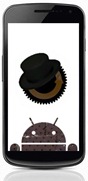 We have confirmation, that ClockworkMod recovery, has finally found its way onto the Galaxy Nexus (Maguro), running Ice Cream Sandwich 4.0. Earlier we covered a guide on rooting the Galaxy Nexus and it wasn't long after the device was released in the UK and a few other places, that Koush – developer of the famous ClockworkMod recovery for the Android OS – tweeted that the recovery was now out and available for the powerhouse of a Galaxy Nexus. So if you were lucky enough to get your hands on this baby and have already rooted it, you can now install ClockworkMod recovery on it and have a go at some custom ROMs and possibly more mods that will follow.
Now there are two ways you can go about installing ClockwrokMod recovery on your Galaxy Nexus. Installing via ROM Manage from the market is by far the easiest thing that ever happened to recovery installations. However, just incase that does not work out so well for you, there's an image file available as well that can be flashed via fastboot. We'll show you both the methods.
Disclaimer: Please follow this guide at your own risk. AddictiveTips will not be liable if your device gets damaged or bricked during the process.
Requirements:
Instructions:
Via ROM Manager
To begin, install ROM Manager from the market.
Once installed, tap Flash ClockworkMod recovery and you will be asked to choose from a list of devices. Choose the Galaxy Nexus.
The app will then download the recovery and flash it to your device, asking you to possibly reboot.
Try rebooting into recovery, you should have ClockworkMod recovery on your device.
via fastboot
To begin, download the recovery image from the link above and rename it to recovery.img.
Copy it to the tools folder in the Android SDK where fastboot.exe is.
Boot your device into fastboot mode by pressing both the Volume buttons together as you turn it on.
Connect the device to the computer, and open command prompt or terminal.
Navigate to the location of the recovery image in the terminal or command prompt and enter the following command:

fastboot flash recovery recovery.img
That's it! simply reboot your device and try booting into recovery to see if the flashing actually worked.