How To: Jailbreak iOS 4.0.1 On iPhone 3G/3GS With Redsn0w Beta 5
Finally the iOS 4.0.1 is released by Apple and seemingly this release only fixes the signal bar display. One good thing about this release is that it doesn't change the baseband of your iPhone meaning that you can jailbreak iPhone 3G/3GS on iOS 4.0.1 with Redsn0w 0.9.5 Beta 5.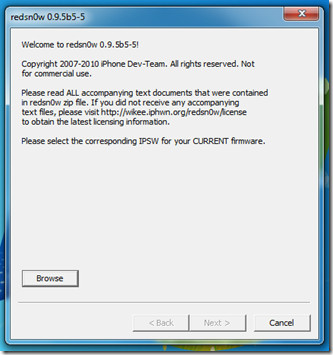 Here are the step by step instructions on jailbreakingiOS 4.0.1 on iPhone 3G using RedSn0w 0.9.5 Beta 5:
The first step is to download the iOS 4 firmware for iPhone 3G/3GS. Although this procedure will jailbreak iOS 4.0.1 on iPhone 3G/3GS, but still you will need iOS 4 firmware.
Now update your iPhone to iOS 4.0.1 using iTunes 9.2.
Now once your phone is upgraded to iOS 4.0.1 launch RedSn0w on your computer and press the Browser button to navigate to the iOS 4.0.
Click "Next" after IPSW verification is completed by RedSn0w. Now select Cydia and other options that you want to install and press Next.
Now power off your handset and connect it with your computer.
After you have made sure that your phone is properly powered off and plugged into computer, put your phone in DFU mode.
Now sit back and relax as redSn0w will take care of the installation and jailbreak.
Once the installation is complete, reboot your phone and there you go! you have successfully restored your iPhone 3G/3GS on iOS 4.0.1 with jailbreak.
Reference Links:
Download iOS 4.0.1 for iPhone 3G
Download iOS 4.0.1 for iPhone 3GS
Download Redsn0w 0.9.6rc19 for Windows
Download Redsn0w 0.9.6rc19 for Mac
Update: We tested this procedure on iPhone 3G and we got "tipped" that this also works for iPhone 3GS. It is now clear that this procedure is not applicable on iPhone 3GS and thanks to all our friends who pointed this out. There is a way to jailbreak iPhone 3GS with Pawnage Tool [unofficial] and we will be posting it soon. We apologize for any inconvenience this might have caused to our valued readers.
Disclaimer: Please make sure that you have ample hands-on jailbreaking experience before trying your hands on this one. AddictiveTips won't be liable for any damages that may incur to your device during the process.