How To Make iOS 5 iPad 2 Gestures Work With iPad 1 Without Jailbreak
Apple certainly knows how to sell their products. iPad was quite a success as soon as it was launched, but surprisingly, the iOS-based tablet got its second version pretty quickly. Obviously, Apple wants its users to upgrade to the iPad 2, which is why the original iPad didn't get one of the new features of iOS 5's tablet variant. On the iPad 2 running iOS 5, you can use multi-touch gestures to navigate between apps, close an app or bring up the App Switcher, but you can't do so in iOS 5 for the first iPad. Not by default, that is. Using a free tool and a Mac system, you can enable all the iOS 5 capabilities on iPad, without even the need of having a jailbroken device!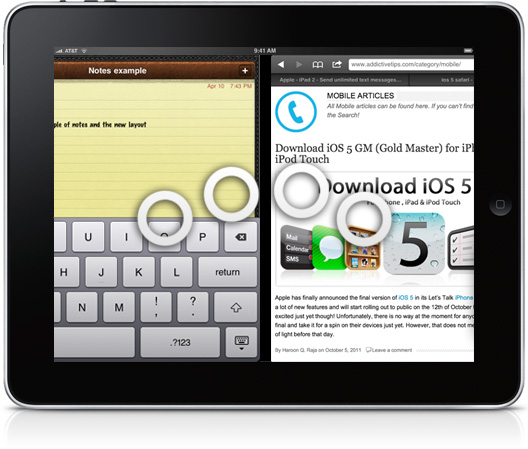 Requirements
A Mac
The modified version of redsn0w.
Instructions
The modified redsn0w file you downloaded earlier is in a zipped archive, so you will need to unzip it first of all.
Connect your iPad to the Mac.
Run the tool present inside the unzipped folder.
Simply read the instructions, choose the option "Jailbreak" (which it won't actually).
Once you have entered DFU mode, give your iPad a few (or maybe more than a few) minutes, and once it has restarted (a number of times), you are done.
Now look into your device's Settings. Under the General tab, you will find that the Gestures option is now visible. Toggle it on (if it isn't already) and all the aforementioned gestures should start working on your iPad 1. For details and a method for Windows, you can try the source link below.