How To Manually Update Motorola XOOM To Android 3.0.1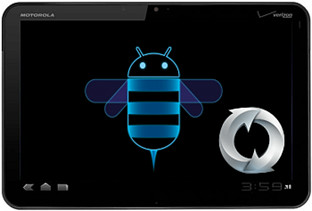 Can't wait for the OTA update for your Motorola XOOM tablet? Well neither can we. Why should we when the update has been leaked and Koush has put together a set of easy to follow instructions to allow us to update our XOOM without a sweat! Read on for instructions on how to update your Motorola XOOM manually.
So, how about we get straight down to business and cut the fancy talk and just update the XOOM. We're all in a hurry to get there!
Disclaimer: Please follow this guide at your own risk. AddictiveTips will not be liable if your device gets damaged or bricked during the process.
Requirements:
Instructions:
To begin, rename the update file downloaded from the link above to, 'update.zip'.

Naviagate to android-sdk-windows > tools and place the update.zip file here.

Run ADB in the background, and then run Windows command prompt.

In the Windows command prompt, navigate to C:\android-sdk-windows\tools, supposing that ADB is in your C drive. Change the drive letter accordingly.

Type in the following commands step by step in the command prompt:
adb push update.zip /sdcard/update.zip 

adb shell 

su 

cd /cache

mkdir recovery
A message may appear saying that it already exists when you enter in the last command. Ignore it.
cd recovery

echo '–update_package=CACHE:/recovery/update.zip' > command

cat /sdcard/update.zip > update.zip

reboot recovery
All done! your XOOM should now boot into recovery and will update to Android 3.0.1. For updates and queries head over to Koush's website.