How To Permanently Root HTC Inspire 4G With Hack Kit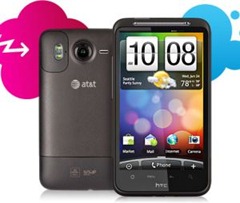 The AT&T HTC Inspire 4G is basically the same phone as the HTC Desire HD, with a few modifications and for this reason, rooting it has been quick after its release just a few days back. If you were one of the first ones to get your hands on this Android phone immediately after its release and want to root it, read on for our complete guide. This method also SIM-unlocks your phone and lets you gain S-OFF on it for complete access.
This rooting method and the Hack Kit have been shared with us by XDA-Developers forum member attn1 and they basically utilize the same methods used for Desire HD and specifically, the Telus Desire HD that we have been featuring here recently.
One limitation of this method is that when it downgrades to the stock Desire HD ROM to be able to S-OFF the device, you lose the sound. That is due to different sound hardware used in the phone. This can be fixed by later installing a custom ROM or kernel intended for the Inspire 4G with the sound issue fixed. See the end of this guide for one such ROM that fixes this issue.
Disclaimer: Please follow this guide at your own risk. AddictiveTips will not be liable if your device gets damaged or bricked during the process.
Update: XDA-Developers forum member r34p3rex has uploaded a video of this guide. Please not that there might be a minor difference in the end: the video does not involve restoring the shipped radio and just finishes with the ClockworkMod recovery installation.
Requirements (updated):
Procedure:
UPDATE: At the time of writing of this post, the latest version of the hack kit was 4, and by now version 9 is out. Therefore, make sure you go through any instructions included in the kit before proceeding with these steps and in case of any differences, follow the instructions provided with the updated hack-kit instead. Though the bulk of the method should remain the same.
Step 1 – Downgrading to a HTC Desire HD stock ROM:
Enable USB Debugging on your computer from Settings > Applications > Development and connect it to your computer via USB in charge-only mode.
You will be told to enter several commands throughout this guide. Do follow any on-screen instructions that you might get upon entering those commands.
Launch a Command Prompt window as administrator (using right-click), browse to the folder where you extracted the HTC Inspire 4G Hack Kit and enter this command:

hackerize-ace install-downgrade

Once your device reboots in the white FASTBOOT screen, press the power button once and follow any instructions that you get on the phone's screen to install the stock ROM.
Once the process is complete, reboot your phone normally if it hasn't rebooted automatically.
Enable USB Debugging again and now enter this command in the same Command Prompt window:

hackerize-ace clean

The downgrade process is complete. Keep the Command Prompt window open till the end of the guide as we will keep on using it in the upcoming steps.
Step 2 – Gaining Temporary Root, S-OFF and Permanent Root:
In the still-open command prompt window, enter this command:

hackerize-ace rage

Once this process is complete, launch Terminal Emulator on your phone (install it from Android Market if it isn't already there) and enter this command in it:

/data/local/tmp/rage

Wait till you see the output saying 'Forked #### childs.' and exit Terminal Emulator by going to Menu > Reset term.
Launch Terminal Emulator again. It will force-close. Launch it yet again and it will successfully open with # prompt instead of $, indicating temporary root access.
To make the root access permanent, enter the following commands in Terminal Emulator:

cd /data/local
./gfree -f
sync
/data/local/tmp/root
sync
You should now have permanent root access on your device but there are still a few steps left.
Step 3 – Installing ClockworkMod Recovery:
Install ROM Manager from Android Market and launch it.
Tap on the first option that says 'Install ClockworkMod Recovery' and select your device from the list of devices. If HTC Inspire 4G isn't listed, simply select HTC Desire HD and provide root permissions when requested.
Wait patiently while ROM Manager installs the recovery.
The latest version of ROM Manager will install ClockworkMod Recovery 3 but that version will not work with flashing Froyo ROMs as it is meant for Gingerbread ROMs only. You must therefore flash an earlier version of ClickworkMod Recovery now. To do this, scroll down in ROM Manager, tap 'All ClockworkMod Recoveries' and select '2.5.1.3'.
Once it is installed, scroll up again and tap 'Reboot into recovery'. This should finalize installing the recovery.
Once you have successfully rebooted into recovery, reboot again from the first recovery option to get back to Android.
Step 4 – Restoring Shipped Radio:
Make sure USB debugging is enabled on your phone.
Enter these commands in the still-open Command Prompt window:

hackerize-ace setup-radio
hackerize-ace flash-radio

Once the phone reboots into fastboot, press the 'power' button once and follow any on-screen instructions that you get to install the radio.
Reboot the device (if it doesn't reboot automatically) once the process is complete.
Finally, enter this command in the still-open Command Prompt window:

hackerize-ace clean
Congratulations – you now have a fully rooted HTC Inspire 4G with S-OFF and a custom recovery installed. You should now be able to install any apps on it that require root access as well as any custom ROMs for this device. In fact you will have to flash a custom ROM right away to get sound fixed, as we mentioned earlier. To do that, see our guide on installing Inspired DHD rooted Android ROM on HTC Inspire 4G.
In case of any problems with this method, visit this XDA-Developers forum thread and ask there.