How To Restore Advent Vega to Factory State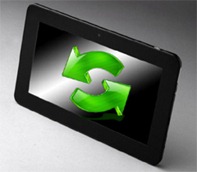 If you have messed up your Advent Vega tablet while trying to install a custom ROM or recovery to it, worry not as you can restore it to factory settings and get it the way as if nothing ever went wrong. While we can't promise that this will work no matter how bad you have messed up your Android device, it's still worth a try and works in most cases unless you have really gone the extra mile to brick your tablet. Read on for our detailed guide.
Please note that if your device is currently functioning normally, proceeding with this method will remove all your applications and data on the internal memory. However, the data on the SD card will remain intact.
Disclaimer: Please attempt this guide at your own risk. AddictiveTips won't be responsible in case your device gets bricked or damaged in the process.
Prerequisites:
USB Cable for PC to Vega connection.
Procedure:
Download the above two files from the official site.
Extract the USB Drivers to any folder on your PC.
Plug the Vega into the power socket to ensure it doesn't run out of battery during the upgrade.
Turn off the device.
Connect the Vega to your PC.
Hold the Back button for 2 seconds.
Keep this held and press and hold the Power button for 2 seconds.
Release the Power button but keep holding the Back button for a further 2 seconds.
Release the back button.
Your device will now boot into recovery.
Windows will prompt you for a driver, point to the location where you extracted the USB drivers above.
Once driver installation is complete, Run the Advent Vega Restore Image file.
A DOS window will appear and complete the process. Do not break the USB connection.
Once the image is installed, your would be prompted to press 'Enter' to exit.
Advent Vega is now restored.
Remove the USB cable and power on your device.
Voila! Your tablet should now be good as new like nothing ever happened to it.
For any issues during the restore process, head over the Advent Vega Support Page.
[via MyAdventVega]