How To: Root Android Devices With Universal Androot App
There is some great news for Android users looking for some painless universal root method or application. As one-click rooting has gained immense popularity among the masses so now you can also root any supported Android device with Universal AndRoot Application. This application is free and all you have to do is to install it in your device using a 3rd party file manager.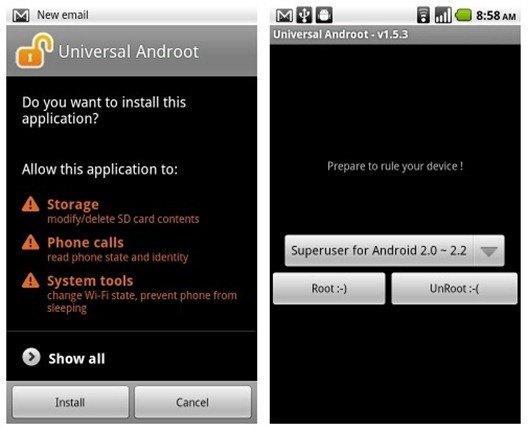 The Universal Root Supports These Devices Running Android : (Handset Model is followed by the OS version)
Google Nexus One (2.2)
Google G1 (1.6)
HTC Hero (2.1)
HTC Magic (1.5) (Select Do not install Superuser)
myTouch 3G 3.5mm/LE (1.6)
HTC Tattoo (1.6)
Dell Streak (2.1)
Motorola Milestone (2.1)
Motorola XT701
Motorola XT800 (2.1)
Motorola ME511
Motorola Charm
Motorola Droid (2.01/2.1/2.2 with FRG01B)
Sony Ericsson X10 (1.6)
Sony Ericsson X10 Mini (1.6)
Sony Ericsson X10 Mini Pro (1.6)
Acer Liquid (2.1)
Acer beTouch E400 (2.1)
Samsung Galaxy Beam
Samsung galaxy 5 (gt-i5500)
Vibo A688 (1.6)
Lenovo Lephone (1.6)
LG Ally (2.1)
LG GT540 (1.6)
Gigabyte GSmart G1305
Here are the step by step instructions on rooting your Android devices using universal root:
The first step is to download Universal Androot 1.6.2 beta 5.
Now connect your supported Android device to the computer and mount SD card.
Now copy the APK file you downloaded in Step 1, to the SD card.
After this is done, use any Astro File Manager to install the file. You can install Astro File Manager for free from Android Market.
Now launch the Universal Androotapplication and follow onscreen instructions to root your device. There you go! It is the simplest method ever to root your Android device and we have tested this method successfully on Nexus One and Sony Ericsson X10/X10 Mini.
Android Handsets Not Supported With This Root Method Are:
Google Nexus One (2.2 FRG33- due to exploit fix)
Samsung i9000 / i6500U / i7500 / i5700
Motorola ME600 / ME501 / MB300 / CLIQ XT
Motorola 2.2 FRG22D
Archos 5
HuaWei U8220
HTC Desire / Legend / Wildfire
HTC EVO 4G / Aria
SonyEricsson X10i R2BA020
myTouch Slide
myTouch 3G (2.2.1)
In case you are facing any difficulty with the root or there is some post-root issue, you can navigate to this link for reference.
Disclaimer: Addictivetips will not be responsible in case you brick or incur any other damage to your device following this guide.
Last edited by Mobile Editor on 16/01/11 to update supported and unsupported device list and replace download link with the latest version available.