How To Root Dell Streak 7 with SuperOneClick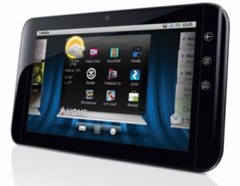 Dell Streak 7 is the new 7" Android tablet in town. It has been barely around for a few days and the XDA-Developers community has succeeded in rooting it already! If you have managed to get your hands on the tablet and can't wait to get root access on it, read on for the complete guide.
The method is very straight forward and does not require installing any Dell Streak 7 specific drivers or software. It utilizes one of the most widely used universal Android rooting tools for several Android devices: SuperOneClick. The result is a rooted device without any hassle of a complicated procedure. This method was shared by us with XDA-Developers forum member jeremy215 who just tried rooting the device with SuperOneClick and succeeded.
Disclaimer: Please follow this guide at your own risk. Rooting your device voids its warranty. Also, while we try our best to keep the method as easy and safe for our users as possible, we will not be liable if your device gets damaged or bricked during the process.
Requirements:
Dell Streak 7 tablet,
USB cable for connecting the tablet to your computer.
Android SDK installed with ADB Drivers downloaded and configured. See our guide on what is ADB and how to install it for details. This step is to configure the drivers only; the rooting method itself doesn't require the use of ADB or any command-line tool.
Method:
Connect your tablet to your computer via USB and make sure USB debugging is enabled in Menu > Settings > Applications > Development.
Extract the contents of the SuperOneClick 1.6.3 archive to a folder on your computer.
Launch SuperOneClick.exe from the extracted files and click the 'Root' button.
Follow any on-screen instructions that you might get on your computer or device. Don't worry in case you don't get any.
Once the process is finished, you may exit SuperOneClick. Your Dell Streak 7 is now rooted.
Now that the device has been rooted, you can install and use a lot of apps on it that require root access. Apart from that, you will be able to flash custom ROMs and recovery images to the device as they become available.