Track Server Response Time With Free Ping Tool
If you've recently developed a website and want to check the server response time, you should try using FreePing Tool. It is a GUI-based application which is responsible to ping host address to track the overall server up time. It is particularly developed for web publishers who need to keep multiple websites under their tight scrutiny for reporting and addressing server down time problems. While it shows the status for each listed website, it can automatically create graphs for all the defined host addresses to track server response time visually.  System administrators can deploy it in a large scale network to consistently check response time of servers, member-servers, routers and other devices which keep network operations stable.
The main interface shows Ping Data window, carrying all the specified HostAddresses with IP address, RTT, Success and Failed status. Using it for the first time requires you to enter HostAdress of servers which are to observed. Once HostAdress is listed, it will start sending request to check the status. Trace Details can be seen by clicking any of listed HostName.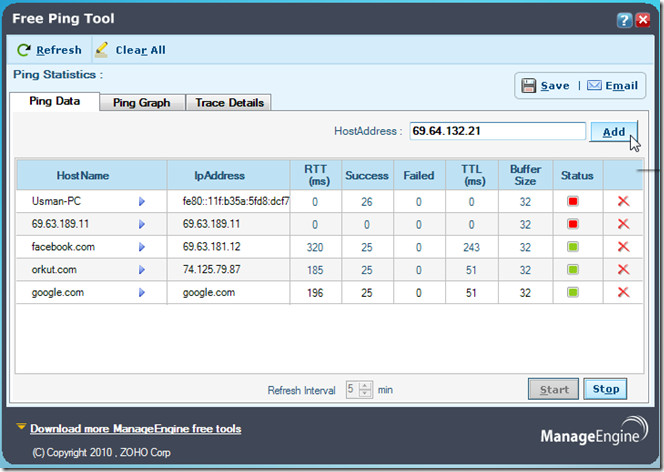 Under Ping Graph window, you can visually check the graph for up time and total data packets sent. Each listed HostName is given a unique color, so you can easily differentiate between the specified Host addresses.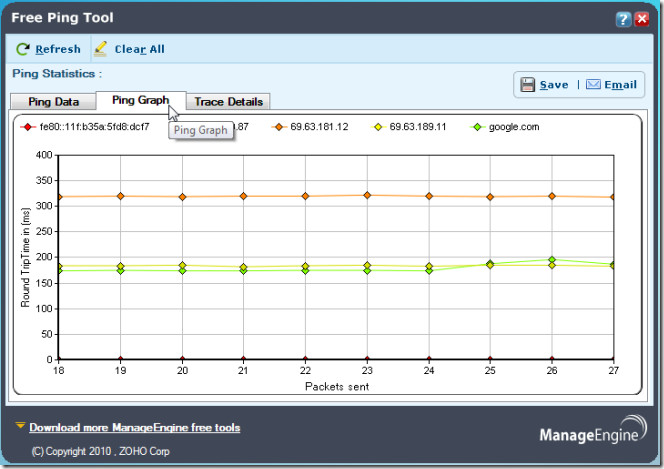 Since it is persistent in checking server response time, network administrators can keep it on desktop to check whether connected member servers and servers are up and running or not. It works flawlessly without consuming much of memory resources.