How To Root Rogers Captivate Updated To Android 2.3.3 Gingerbread [Guide]
Samsung Galaxy S i9000 has remained one of the heart-favorites of Android fans and users for quite some time. Until now, the phone hasn't lost its charm and there are folks who still like keeping their Galaxy S and not upgrading to other high-tier Android devices. Samsung Galaxy S was released on Rogers at Samsung Captivate and like other regional versions, it has certain different and distant characteristics from other variants. Recently we got a request to cover a rooting guide for this phone and to our utter amazement, there is no well drafted root instruction guide or video for Roger's Samsung Captivate upgraded to Android 2.3.3 Gingerbread in September this year.
The Gingerbread upgrade for Rogers Captivate was rolled out via KIES and as expected, it killed the root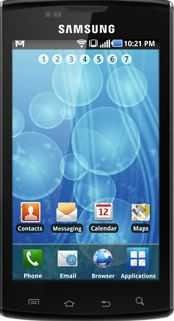 privileges previously acquired on older Froyo version. Some thoughtful users abstained from this update and their wait paid off well when custom ROMs based on this official update started to appear on different Android forums. And for those who upgraded their phone to this official Android 2.3.3 Gingerbread version, the only way was either to roll back to Froyo and re-root or flash an unsecure rooted kernel that provided superuser access.
But when it is Android, there is always a way! and save happened in this case! Erbsmokah, XDA member, managed to gain root access on Samsung Captivate updated to official Android 2.3.3 Gingerbread. The method isn't as pretty as those single click root exploiters and is doable provided that the user is ready to take the risk.
Disclaimer: Please follow this guide at your own risk. AddictiveTips will not be liable if your device gets damaged or bricked during the process.
Here is the step by step guide to root Roger's Samsung Captivate via ODIN method:
The first step is to download and install Samsung Captivate drivers [64 Bit, 32 Bit] on your computer.
Once done, download and install KIES so that ODIN can get connected and work glitch free.
Download the ODIN ZIP file, extract the archive on your desktop and move the extracted archive contents to ODIN folder on your desktop. Make a new ODIN folder for this task.
Download the Fugu Root Kernel (hosted on Megaupload, broken) along with Uxkh2 kernel (hosted on Megaupload, broken) and save both these tar files in ODIN folder on your desktop.
Put your phone in download mode. In order to do this, completely power off your device, then connect your phone to the computer via USB cable while tightly holding the volume up and down keys both.
Double-click to start ODIN and you will see your phone detected with a com port tab going yellow.
In the ODIN interface, only let Auto Reboot check marked and uncheck all other option.
Click on PDA option and select Fugu Kernel you earlier copied to ODIN folder on your desktop.
Press start and the kernel will be flashed.
After the kernel is flashed, your phone will restart and go into a bootloop.
Let it complete the bootloop once, and then remove the phone's battery.
Now reinsert the battery and again put your phone in Download mode by following the instructions provided earlier.
Flash the uxKH2 kernel available in your Odin folder. The method of flashing remains the same as fugu kernel.
After you are done flashing, your device will reboot.
Once it's done rebooting, go to Android Market and download Root Checker app to verify root.
In case you are facing any trouble with this method or are stuck at a certain point, then head to the XDA forum root discussion thread.