How To Root Samsung Galaxy S II I9100
We have just received confirmation of the Samsung Galaxy S II has been rooted and done so in an actually very simple manner. This is done by installing an insecure version of the original XWKDD Android kernel to it. Brought to us by the renowned developer and XDA-Developers forum member Chainfire, the method lacks Superuser and Busybox installation but there is a workaround for that as well, because without all of that, it's not much of a useful root is it? More on the rooting method after the jump.
As said earlier, the root lacks Superuser and Busybox but some Galaxy S II users have reported a workaround for that as well. The root process basically involves flashing the modified insecure kernel via ODIN and then using SuperOneClick to get Superuser and Busybox installed on your phone.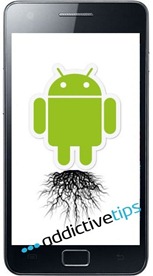 Let's put this into an instruction set but before we do that, we cannot stress enough that this guide is only for people who understand the risks involved in rooting their devices and can bring their devices back to normal in case something goes wrong. The method is still experimental but feedback from other forum members on the thread has been positive so far.
Disclaimer: Please follow this guide at your own risk. AddictiveTips will not be liable if your device gets damaged or bricked during the process.
Update: The following method is outdated; use the CF-Root method instead.
Requirements:
Instructions:
To begin, you need to put your phone in download mode. Do so by pressing Volume Down + Home + Power.
Now connect your phone to the pc via the USB cable and run ODIN and make sure Repartition is unchecked.
Click on the PDA tab in ODIN and navigate to the location of XWKDD_insecure kernel.tar and select it.
Once selected press the Start button and the kernel will be flashed in a few seconds.
After flashing the kernel, the phone will reboot with the new insecure kernel installed.
Once it reboots, run the SuperOneClick tool and hit the Root button.
Ideally this should work for your as it has for quite a few people in the forum. You can visit the forum thread at XDA-Developers for updates and any queries you might have. Do let us know how this worked out for you.