How To Root / Unroot Motorola Flipout With Universal Androot App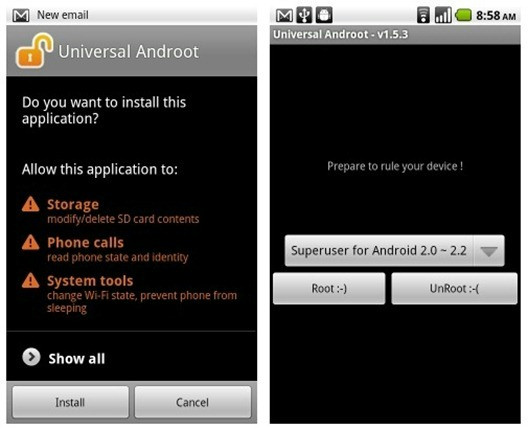 There is some great news for your if you just got your Motorola Flipout and were looking to root it right away. The root for Motorola Flipout is pretty easy as the Universal Android Root App does the task without any glitch.
Here are the step by step instructions on rooting your Motorola Flipout with universal Androot App:
The first step is to download the Universal Androot App.
Once the download is complete, unzip the file and save APK file on your desktop.
Now connect your Motorola Flipout with with computer using USB cable and mount SD card.
Once this is done, copy the APK file you extracted to your desktop on SD card root.
Now disconnect your phone from the computer [Although it's not necessary] and launch Market.
Now search for Linda or Astro File Manager and install the app.
Once the file manager of you choice is installed, launch it and follow onscreen instructions to install Androot APK file from SD card.
Now wait for the installation to finish and launch Universal Androot Application.
In the application, tap on "Root :-)" and wait for the procedure to finish.
Once the root is done, your phone will reboot and there you go! you now have your Motorola Flipout rooted.
Similarly you can unroot your device with same application by pressing "Unroot".
Disclaimer: Addictivetips will not be responsible in case you brick or incur any other damage to your device following this guide.