A.I Type Speeds Up Typing By Showing Suggested Words / Phrases
If you badly suck at typing and your mind goes completely blank as to what to type next, A.I type is what you need. It is by-far the most interesting and intuitive typing tutor/master, which offers a list of words right beneath the Insert Cursor. Apart from being a typing assistant, it also makes it much easier and faster to type by auto-completing the correct words for you. No matter where you are typing, in Notepad, WordPad, MS Word, filling forms on web, composing email, etc., it will always pop-up to help you out with typing by suggesting words and sentences. Moreover, it uses an intuitive typing mechanism which shows a list of smart words that are in some way or the other related with the phrase/sentence.
According to the author "it understands what users are typing and offers word and sentences completion that help the user type just a minimal number of letters". The prediction algorithm behind the way it generates a list of smart words and sentence suggestions is quite phenomenal, all you need is to type the initial letters of a word and it will instantly show a words list and suggestions, you can select any word from a list to use in the context of the sentence.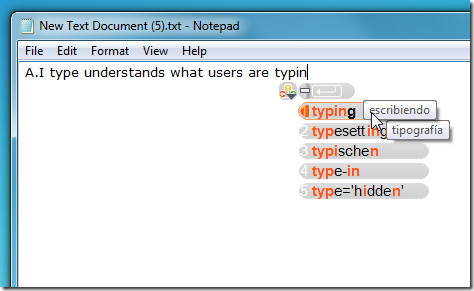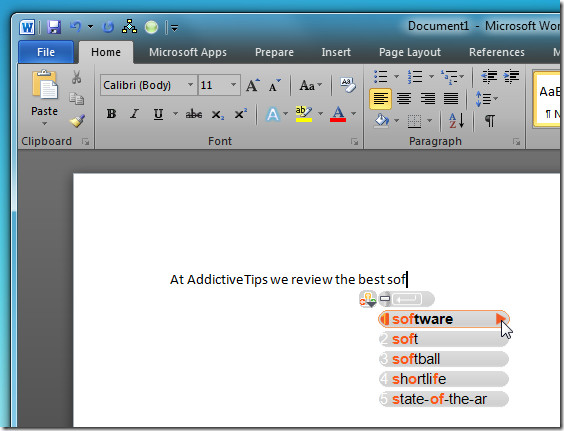 The application sits in system-tray, letting you configure some generic behavior settings. By default, it shows translation in your local language, however, from its system tray menu, you can disable the translation option.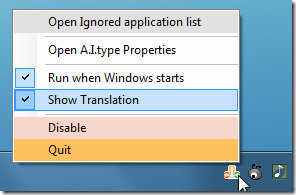 Click A I.type Properties to configure some advance settings, you can define an ignore list (where you want to type without its assistance), enable/disable carriage return <Enter> as default selection of word, change translation language (a wide list of eminent languages is provided), and change prediction list/suggestion box color scheme and opacity.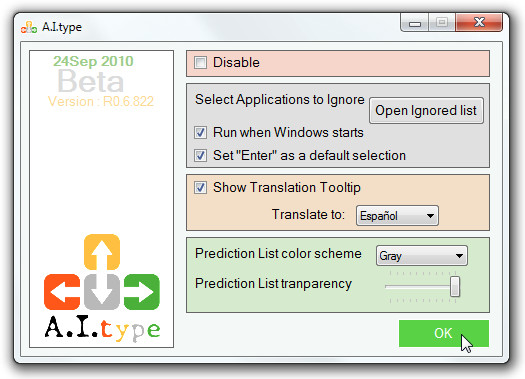 The application is in initial beta phase, you need to sign-up (takes hardly a minute) to get a download link. During testing, it worked seamlessly with our Windows 7 x86 based testing system while it supports Windows XP, Windows Vista and Windows 7.
For more, also check out TypingAid. If you want a notepad with autocomplete functionality, check out WorldWideNotepad.