How To Root HTC EVO 4G With Simple Root
Some XDA Forum members have released a tool called Simple Root which allows HTC EVO 4G users to fully root their device by doing some simple steps. Simple Root is a GUI application that can be easily used by novice users.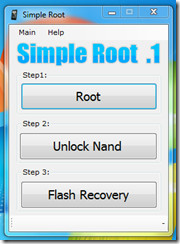 Here is a step by step guide on how to root your HTC EVO 4G using simple Root:
The first step is to backup your phone data using Nandroid. This is done because applying any of the options i.e. 'Root', or 'Unlock Nand' will erase all of your phone data. It is also advisable to backup your MicroSD card in case anything goes wrong.
Now connect your phone to your PC running Windows OS and make sure that your have .Net 4.0 framework installed already. It is also necessary to install HTC sync before going further.
Now download SimpleRootFull.2 and execute the application.
On the resulting screen you will see three options. Follow the steps as mentioned on the screen, meaning that you will have to first press root, then NAND back-up and then Flash recovery. You can also press the "help" tab on top of the screen if you need more details on the procedure.
As per the developers, it is better to flash a custom ROM like DamageControl Or Fresh to make SU work properly.
For more details please consult the original XDA Forum Thread.
Disclaimer: AddictiveTips won't be held responsible if this rooting method incurs any permanent or non-permanent damage to your device. Please use at your own risk.