How To Unbrick Asus Eee Pad Transformer Honeycomb Tablet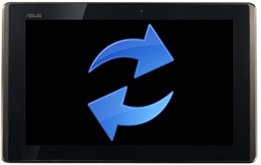 If you were tinkering around with your awesome Asus Transformer and ended up bricking it much to your regret, no need to get depressed over it. XDA-Developers forum member rayman84 has just released a quick fix to get you out of this mess and have your Transformer up and running again in no time. Read on for more on it!
While this fix is a must try for anyone with a bricked Transformer out there, it is a must have tool as a contingency plan when your heart stops beating cause your Transformer won't boot up anymore. The tool is based on NVflash and is amazingly very simple to use considering the task at hand. Unbricking your device just got a lot cooler and easier!
So let's get this done. You can also see a video tutorial below.
Disclaimer: Please follow this guide at your own risk. AddictiveTips will not be liable if your device gets damaged or bricked during the process.
Requirements:
Instructions:
To begin, download both the Nvflash tool and the ROM from the links above.
Extract the Nvflash tool to a folder and then extract the ROM to the Nvflash folder.
Connect the device to the computer and turn it on while holding down the Volume Up key. The screen will stay off, but USB device will be shown connected on the computer.
If you're on Linux, skip to Step 5, if not, read on. Once the device is in APX mode, Find the APX device in Device manager and update the driver by pointing at the usbpcdriver directory in the Nvflash folder.
Run download.sh (Linux) or download.bat (Windows) and watch the magic happen!
For updates and queries visit the forum thread at XDA-Developers.